The 3 Best Options Strategies For Beginners: The Ultimate Guide To Making Extra Income On The Side By Trading Covered Calls, Credit Spreads & Iron Con (Paperback)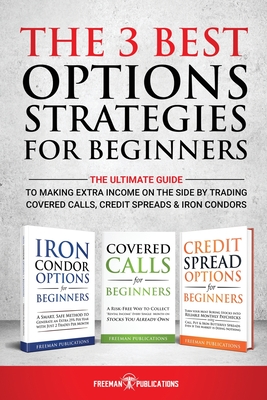 $39.95

Usually arrives at our store within 4-7 days
Description
---
Stop settling for non-existent savings account rates and bank CDs which pay less than 1%... and start making your investments work for you again...
If you're worried about the current market uncertainty, these 3 options strategies are your antidote to chaos.
You can use them to generate consistent returns, no matter what happens to your stock.
Making it the perfect income strategy, because you can use covered calls, credit spreads & iron condors to create instant cash, with premiums paid directly into your brokerage account.
Even if you know nothing about options, this book will get you right up to speed.
Here is just a fraction of what you'll discover:
- The 6 criteria we use to select the best stocks to write covered calls on
- The vital difference between covered and uncovered calls
- Options Greeks explained in 10 minutes
- 3 rules for adjusting your covered call
- How to use covered calls to lower the purchase price of stocks you already own
- The 8 criteria we use to select the best stocks to write credit spreads
- The only 3 technical indicators you need to know for credit spreads. Ignore everything else, you only need these 3 beginner friendly metrics to get started
- 10 effective ways to master the mental side of trading
- The 5 best low-commission brokers for beginner options traders
- Trade options like Warren Buffett? The world's greatest investor has used this specific strategy to make $4.9 Billion over the past decade
- 3 "non-negotiable" trading rules. Adhere to these and you will be ahead of 90% of amateur traders
- Exactly what level the VIX should be at before you sell a spread. A backtest implementing this one tweak made the strategy 50% more profitable over 10 years worth of trades
...and much, much more
Plus, inside the book you get free access to a 9 part video course covering every aspect of profitable investing
So even if you've never used options before, the book walks you through everything step by step. You'll find everything explained in plain English, free from technical jargon.
Even if you get stuck, you can always send us an email (provided inside the book) or reach out in our private investing community on social media - we're always happy to help with any questions you might have.
And remember... bank CD's will only pay you between 0% and 1%... the dividend yield on the S&P 500 is around 2%... and 5 to 10 year municipal bonds will only pay between 2% and 3%.
But if you use what's inside this book, you could have the opportunity to earn so much more than that.
And when you receive just a single premium from one of these trades (which is paid into your account instantly) it will cover the cost of this book 10x over.