The Last Stardog (Hardcover)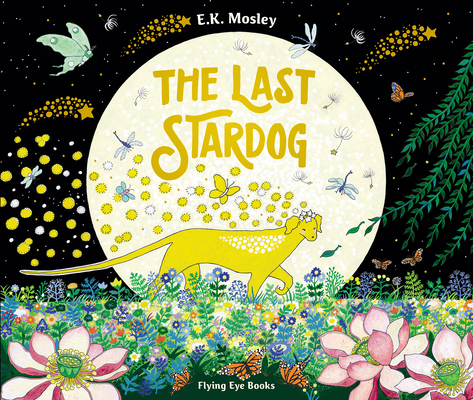 Description
---
From a brand-new talent, comes a lyrical fable reminiscent of your favorite Grimms' Fairy Tales! Stardog is a lonely protector of stars in the pursuit of finding others of her kind, but along the way learns to redefine her dreams.


"Intricate and captivating, The Last Stardog is an utterly charming and delightful story of friendship and dreams, and the magic that sparks where they meet"
—Hollie Hughes, Author of The Girl and the Dinosaur


Have you ever dreamed the same dream twice or thrice or more? Because if you have you are like Stardog who has dreamed the same dream every night, at least twice or thrice or more . . . It's a very important dream to Stardog, because in this dream Stardog is not alone . . .

Outside of dreams Stardog is the last of her kind and one night, heavy with loneliness Stardog falls out of the sky. Past the planets, down, down, down to Earth where the familiar falls away and the unknown grows all around. All alone and too heavy to fly home, Stardog sets out on a journey to fulfil her dream – to find others like her.

But along the way StarDog meets a butterfly, crow, and tiger that help her realize the journey is no easy feat and dreams can change . . . What Stardog's dream truly is and what she is searching for is that special place where she belongs: perhaps not what is familar, but rather the transformative power of a community of species unlike her own!

The first series title in a trilogy of epics, with gold foiling on the cover that make this a magical treasure to cherish for years to come!
About the Author
---
Paris-born wanderer E.K. Mosley is a British writer and illustrator who grew up living between Texas, London and Moominvalley, but currently resides by the Cornish seaside. They studied illustration at Falmouth University and now works as a freelance illustrator and writer. Mosley works in a diverse range of media from paint pens, ink, watercolour and digital, to a unique form of hand-cut stencil screen-printing inspired by old Japanese Woodblock prints.
Praise For…
---
'Intricate and captivating, The Last Stardog is an utterly charming and delightful story of friendship and dreams, and the magic that sparks where they meet' - Hollie Hughes, Author of The Girl and the Dinosaur