Functional Dimensions of Ape-Human Discourse (Functional Linguistics) (Paperback)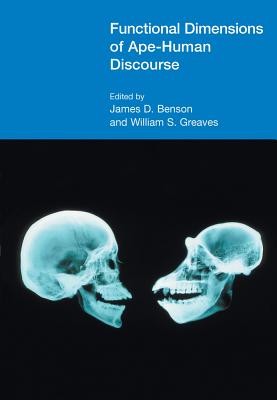 This item is not available.
Description
---
Functional Dimensions of Ape-Human Discourse asks the question, 'What do interactions between apes and humans mediated by language tell us?'. In order to answer this question the authors explore language-in-context, drawing on a multi-leveled, multi-functional linguistics. The levels are context of culture, context of situation, semantics, lexicogrammar, and phonology; and the functions are ideational, interpersonal, and textual. Chapter 1 discusses a negotiation between the bonobo Kanzi and Sue Savage-Rumbaugh in terms of discourse-semantics, lexicogrammar, and the ideational and interpersonal metafunctions of language. Chapter 2 reinterprets Sue Savage-Rumbaugh et. al. Language Comprehension in Ape and Child (1993) in terms of the ideational metafunction, and provides corroborative evidence for Kanzi's symbolic processing abilities, opening a window into the consciousness of at least one non-human primate. Chapter 3 compares three snapshots from comprehensive studies based on large amounts of data (monkey calls, language development in a human child, and a dialogue between Kanzi's sibling Panbanisha and Sue Savage-Rumbaugh) from an evolutionary perspective, showing different ways in which the level of grammar comes to be wedged in between semantics and expression. Chapter 4 articulates a methodology incorporating public domain software for the comprehensive analysis of ape-human interaction. Although bonobo-human interaction is used as an example, the methodology could be utilized for studies of chimpanzees, gorillas, and orangutans.
About the Author
---
James D. Benson is Associate Professor of English at Glendon College, York University, in Toronto. He is co-author (with William S. Greaves) of The Language People Really Use, You and Your Language. William S. Greaves is Emeritus Associate Professor in the English Department at Glendon College, York University, Toronto, which he joined in 1967. His co-authored book (with M.A.K. Halliday) Intonation in the Grammar of English will be published in 2004 by Equinox Publishing Ltd.