Canada - Culture Smart!: The Essential Guide to Customs & Culture (Paperback)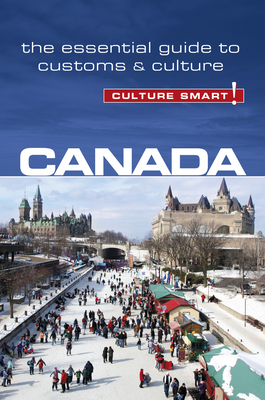 Other Books in Series
This is book number 64 in the Culture Smart! series.
Description
---
Canada is the second-largest country in the world, stretching from the Atlantic Ocean to the Pacific and spanning six time zones. From coast to coast lie vast forests, breathtaking mountains, flat, open plains, and thousands of lakes and rivers. It is also the world's second-most sparsely populated country. The Canadian psyche is deeply influenced by the size of the territory and the extremes of its climate. Canada's short history, and its relatively peaceful development, affects the way the Canadians view the world and their place in it. They are one of the world's wealthiest nations, with a quality of life to match, and are proud of their positive international reputation.   Outsiders assume that Canadians are culturally similar to, if more modest than, their American neighbors. But Canadian society is more complex than that. This is one of the most multicultural societies in the world, due to its high level of immigration. In addition, its small population, spread thinly across a huge landmass, affects how Canadians communicate with each other. For instance, they identify more readily with their province or local community than they do with their nation. Politically and economically, the country is very decentralized. Culture Smart! Canada gives a broad overview of the geography, history, and politics of the land. It describes Canadian values and attitudes, how people relax in their spare time, and how you can make friends with them. There is a chapter on business for those who need to know what to expect in the corporate world. By preparing you for the reactions, emotions, and events that you will experience during your visit, it will deepen your understanding of the country. Canadians are open, friendly, and relaxed hosts. They will welcome you even more warmly if you demonstrate some depth of knowledge of their culture.
About the Author
---
Diane Lemieux was born in Quebec into a diplomatic family, and first moved abroad at the age of three. Her journey continued through eleven countries on five continents, during which she acquired four languages, two passports, and several cultural identities. A graduate of the University of Ottawa, Leeds University, and Amsterdam University, she started her career in international development. She has since become a full-time writer and is the author of four books.