Star Trek - The Original Series: A Celebration (Hardcover)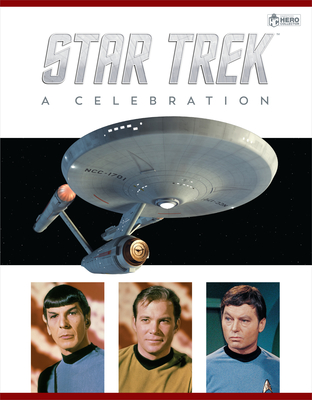 Description
---
Celebrate Star Trek: The Original Series with this epic, fully authorized coffee-table book! New interviews, archival conversations, never-before-seen art and sketches, and more!

Gene Roddenberry's "Wagon Train to the Stars" continues to live long and prosper, with Discovery, Lower Decks, and Picard currently on the air, and Strange New Worlds on the way. But it all began 55 years ago with Star Trek: The Original Series. The second installment in Hero Collector's Celebration line (following Star Trek: Voyager – A Celebration), Star Trek: The Original Series – A Celebration includes more than a dozen new interviews with cast and creatives, scores of never-before-seen photographs and sketches, as well as chapters taking fresh looks at the show's creation, directing, visual effects, props, and most-pivotal episodes.
About the Author
---
Ben Robinson has been involved with Star Trek for 20 years. Ben was the launch editor of the huge Star Trek Fact Files, and went on to edit the US Star Trek: The Magazine. He has co-written two Haynes Manuals. Ben created the Starfleet shipyards line of books and co-authored Star Trek Voyager: A Celebration.

Ian Spelling is an entertainment journalist whose Trek association dates back to the mid-1980's, when he interviewed Gene Roddenberry for his college newspaper. Ian went on to write for Starlog, Star Trek Monthly/Star Trek Magazine, the official TNG, DS9 and Voyager magazines, "Inside Trek/Strange Worlds," and was editor of StarTrek.com. Additionally, Ian beamed onto Trek twice as an extra, playing a Bajoran and a Drayan soldier, and he often moderates panel at Trek conventions.
Praise For…
---
Writing a book about Star Trek: The Original Series presents a challenge: How do you tell the story of a revered, classic show that can serve both die-hard fans who've heard the same stories told over and over for years along with the newcomers who came into Star Trek from either the Berman-era shows or the Kurtzman ones? Authors Ben Robinson and Ian Spelling have found a way, combining familiar stories with new interviews and rarely heard details without ever condescending to either group, in a beautiful new coffee table book called Star Trek: A Celebration.
- Laurie Ulster, TrekMovie.com

What a great book. I love the layout - for me it was like looking through a family album and visiting old friends. It really gives you a sense of what it was like to work on Star Trek.
- Joe D'Agosta, Casting director of STAR TREK: The Original Series

STAR TREK is a phenomenon. It took two pilots to launch it as a series. It took most of its first season to shape up as television's most unique and original program. It was almost cancelled at the end of that first season. The series was cancelled at the end of the second season, only to be put back on the schedule because of its fans. Its cancellation at the end of its third season proved to be final. STAR TREK was dead. But was it? Within the year, STAR TREK, despite lacking a backlog of the usual required five years of episodes, entered the syndication market. And the rest is history. Ian Spelling and Ben Robinson, in their stunning new book on STAR TREK, have assembled the people who worked behind and in front of the camera through those difficult, tumultuous years.
- Ralph Senensky, director of STAR TREK: The Original Series

The TOS Celebration is a stunning immersive look at one of the most groundbreaking TV series in history. From a design standpoint, TOS may never be equaled. It encapsulates an era of optimism and the futurist movement. We take for granted so many things, from computers, communications, and interfaces that were in their infancy at the time Matt Jefferies and his team were designing the series. They not only were able to design the future, but they did it in a mindful way on a Network TV budget that is minuscule by today's standards. The comprehensive behind-the-scenes details are captivating, showcasing the practical and visual effect done by some of the pioneers in the industry.
- Dave Blass, Picard production designer

A splendid celebration of the original, legendary STAR TREK television series that is literally teeming with fascinating first-hand accounts and insights from the show's iconic main cast, behind-the-scenes crew and key guest stars – gleaned from both brand new conversations conducted just for this book as well as their most notable past interviews and writings – to provide a remarkable and truly delightful look at all facets of TOS's production!
- Gerald Gurian, author of To Boldly Go: Rare Pictures from the TOS Soundstage

There's something to be said about going back to Star Trek: The Original Series and reflecting on how creator Gene Roddenberry's original vision for the future laid the groundwork for everything that has come since.
- Tara Bennet, SyFy.com

The 55th anniversary of the launch of the series is worthy of the celebration, and authors Ben Robinson and Ian Spelling have created the latest definitive, behind the scenes account of the 1966-1969 series. 
- Borg.com