What It Is (Hardcover)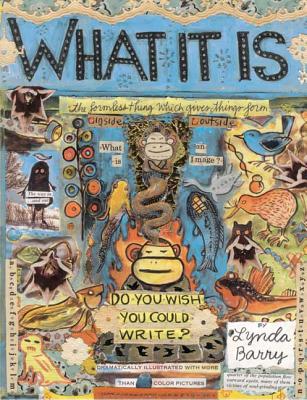 $24.95

Usually arrives at our store within 4-7 days
Description
---
"Deliciously drawn (with fragments of collage worked into each page), insightful and bubbling with delight in the process of artistic creation. A+" -Salon

How do objects summon memories? What do real images feel like? For decades, these types of questions have permeated the pages of Lynda Barry's compositions, with words attracting pictures and conjuring places through a pen that first and foremost keeps on moving. What It Is demonstrates a tried-and-true creative method that is playful, powerful, and accessible to anyone with an inquisitive wish to write or to remember. Composed of completely new material, each page of Barry's first Drawn & Quarterly book is a full-color collage that is not only a gentle guide to this process but an invigorating example of exactly what it is: "The ordinary is extraordinary."
About the Author
---
Lynda Barry has worked as a painter, cartoonist, writer, illustrator, playwright, editor, commentator, and teacher and found that they are very much alike. She lives in Wisconsin, where she is a professor of Interdisciplinary Creativity at the University of Wisconsin-Madison.

Barry is the inimitable creator behind the seminal comic strip that was syndicated across North America in alternative weeklies for two decades, Ernie Pook's Comeek, featuring the incomparable Marlys and Freddy. She is the author of The Freddie Stories, One! Hundred! Demons!, The! Greatest! of! Marlys!, Cruddy: An Illustrated Novel, Naked Ladies! Naked Ladies! Naked Ladies!, and The Good Times are Killing Me, which was adapted as an off-Broadway play and won the Washington State Governor's Award.

She has written three bestselling and acclaimed creative how-to graphic novels for Drawn & Quarterly, What It Is which won the Eisner Award for Best Reality Based Graphic Novel and R.R. Donnelly Award for highest literary achievement by a Wisconsin author; Picture This; and Syllabus: Notes From an Accidental Professor, and In 2019 she received a MacArthur Genius Grant. Barry was born in Wisconsin in 1956.
Praise For…
---
Praise for Lynda Barry:
Barry is, underneath the wonky handwriting and the quirky, nave drawings, a great memoirist . . . Like [Tobias] Wolff and [Dave] Eggers, she finds a tone that accommodates self-criticism and self-irony without tipping over into self-loathing . . . but what she is particularly good at is resonance.The New York Times
Barry is not just a storyteller, shes an evangelist who urges people to pick up a penor a brush . . . and look at their own lives with fresh, forgiving eyes.San Francisco Chronicle
Americas leading cartoon artist of childhood angst . . . The precise rightness of Barrys smallest observation puts TVs The Wonder Years to shame.Entertainment Weekly