Alas Vegas: Flashbacks, Blackjack and Payback (Paperback)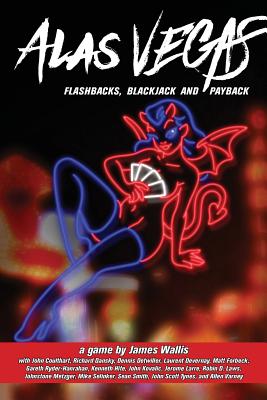 This item is not available.
Description
---
You wake in a shallow grave in the desert. It's night. You have no memory of how you got here, or who you are, or the location of your clothes. A scar of neon in the shape of a city squats on the horizon. There are answers there. And trouble.
ALAS VEGAS is a dark journey through a bizarre and terrifying casino city where everything has a price. Caught in a war between the Rat Packers who run the place, the players must find allies, the truth and a way to escape. Memories are recovered, secrets are revealed, old debts are settled, and nothing is what it seems.
The game lasts four sessions, structured like a miniseries, leading to a revelatory final showdown. It's Ocean's Eleven directed by David Lynch. It's Franz Kafka's Fear and Loathing. It's The Hangover meets The Prisoner. It's not like anything you've played before.
PLUS THREE MORE FUGUE CAMPAIGNS
ALAS VEGAS runs on the Fugue game system, built to tell stories of characters with amnesia. It uses Tarot cards and rotating GMs to create unique, high-tension adventures, heavy on character and narrative. The book contains ideas, background, and game-running advice by some of the finest RPG designers alive, and three extra Fugue campaigns: Yet Already, frantic time-travel to save a chaotic, collapsing universe; Warlock Kings, paladins returned to life as generals of a dark army; and Remembering Cosmic Man, the strange histories of superheroes. Plus all the Fugue mechanics, of course.
There's also a complete stand-alone story-game set in the blood-red heart of classic Vegas, Killing Bugsy Siegel by Kenneth Hite.
"The ultimate one-shot roleplaying game" - Reviews from R'yleh
"Alas Vegas is a stunning self-contained game with a heck of a narrative punch" - Jason Mical
About the Creators
James Wallis, 'the godfather of indie game design', is the Origins Award-winning designer behind Once Upon a Time, The Extraordinary Adventures of Baron Munchausen, and the 2017 reboot of Paranoia.
Alas Vegas contains contributions from Richard Dansky. Matt Forbeck, Gareth Ryder-Hanrahan, Kenneth Hite, Laurent Devernay and Jerome Larre, Robin D. Laws, Johnstone Metzger, Mike Selinker, Sean Smith, John Scott Tynes and Allen Varney, and artwork by John Coulthart, Dennis Detwiller, John Kovalic and Niki Hunter.