Drone Professional 2 (Paperback)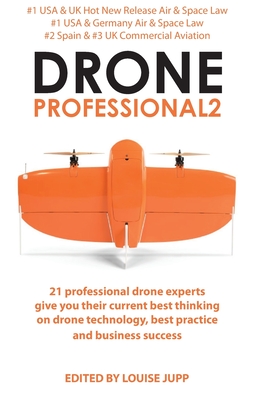 This item is not available.
Description
---
Available, In Stock Now. Disregard the purchase banners. Drone Professional 2 covers drones, professional drone pilots, UAVs, drone software and technology, civil aviation, commercial aviation, drone science and drone education. 21 drone professionals worldwide share their current best thinking, expertise and experience on commercial drone issues.
Editors Louise Jupp and Andrew Priestley.
Contributors: Dave Scott, Andre Meredith, Daniel Blomerus, Maayke Leenstra, Kim James, Ian Kiely, Itumeleng Mokoena, Filippo Tomasello, Gift Kgadima, Queen Ndlovu, Dean Polley, Godfrey Nolan, Justin Melman, Debbie Jewitt PhD, Jamie Allan, Clive Mathe, Sonet Kock, Tawanda Chihambakwe, Timothy Wise, Andrew Priestley (Editor) and Louise Jupp (Editor).
This is an impeccable resource because it combines both technical and personal anecdotal feedback from frontline experts. What is truly inspiring is the broad range of professional drone applications included in this book. Fully referenced, this is an invaluable resource for professional drone operators.
Topics include:
AI
Risk Assessment
Insurance
Safety
Crop Spraying
Conservation
Regulations and Compliance
Agribusiness
Surveillance and Security
Satellites
Education
Teams
Marketing
Manufacturing
... and more
See Drone Professional 1 on Amazon Kindle and paperback.