Dropshipping: Your Step-By-Step Guide To Make Money Online And Build A Passive Income Stream Using The Dropshipping Business Model (Hardcover)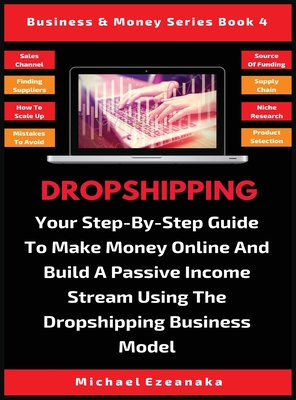 $19.99

Usually arrives at our store within 4-7 days
Description
---
Are you looking for a simple, beginner-friendly online business that you can start today with less than $100 and a computer? If so, read on..
How many times have you started a business only to later realise you had to spend a fortune to get the products manufactured, hold inventory and eventually ship the products to customers all over the globe?
Would you like to start your very own e-commerce business that gets right to making money without having to deal with all of these issues?
Drop shipping can be very attractive because it helps to minimize all the above risk and cost while offering convenience and practicality.
Amazon bestselling author, Michael Ezeanaka, provides a step-by-step analysis of the Dropshipping business model, how to get started, the players involved, what to do and what to avoid, and most importantly, how to scale up your business to $10,000 per month.
You'll learn something about this business opportunity. Best of all, you'll discover how to build a profitable, reliable and sustainable dropshipping business that will stand the test of time.
In this book, you'll discover:
A simple, step-by-step explanation of what the dropshipping business is all about (Chapter 1)
8 reasons why you should build a dropshipping business (Chapter 2)
Disadvantages of the dropshipping business model and what you need to look out for before making a decision (Chapter 3)
How to start your own dropshipping business including the potential business structure to consider, how to set up a company if you're living outside the US, how much you'll need to start and sources of funding (Chapter 4)
How the supply chain and fulfilment process works - illustrated with an example transaction (Chapter 5)
Analysis of 3 potential sales channel for your dropshipping business - including their respective pros and cons (Chapter 6)
How to do niche research and select winning products - including the tools you need and where to get them (Chapter 7)
How to find reliable suppliers and manufacturers. As well as 6 things you need to look out for in fake suppliers (Chapter 8)
How to manage multiple suppliers and the inventory they hold for you (Chapter 9)
How to deal with security and fraud issues (Chapter 10)
What you need to do to minimize chargebacks i.e. refund rates (Chapter 11)
How to price accordingly especially when your supplier offers international shipment (Chapter 12)
7 powerful strategies you can leverage to scale up your dropshipping business (Chapter 14)
15 practical tips and lessons from successful dropshippers (Chapter 15)
...and much, much more
PLUS, BONUS: because this book is enrolled in the kindle matchbook program, you will get the kindle edition for free when you purchase the paperback edition from Amazon.com
If you're ready to build a strong passive income stream using the dropshipping business model, get your copy of this book and let's get started