Walking Pepys's London (Hardcover)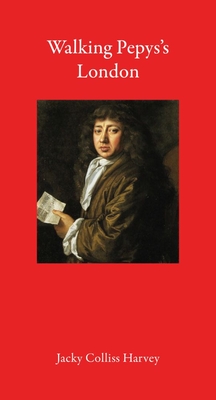 $22.95

Usually arrives at our store within 4-7 days
Description
---
Brings to life the world of Samuel Pepys with five walks through London.

Samuel Pepys, the seventeenth century's best-known diarist, walked around London for miles, chronicling these walks in his diary. He made the two-and-a-half-mile trek to Whitehall from his house near the Tower of London on an almost daily basis. These streets, where many of his professional conversations took place while walking, became for him an alternative to his office.

With Walking Pepys's London, we come to know life in London from the pavement up and see its streets from the perspective of this renowned diarist. The city was a key character in Pepys's life, and this book draws parallels between his experience of seventeenth-century London and the lives of Londoners today. Bringing together geography, biography, and history, Jacky Colliss Harvey reconstructs the sensory and emotional experience of Pepys's time. Full of fascinating details, Walking Pepys's London is a sensitive exploration into the places that made the greatest English diarist of all time.
 
About the Author
---
Jacky Colliss Harvey is a writer and editor. She has worked in museum publishing for the past twenty years and is a commentator and reviewer who speaks on the arts and their relation to popular culture. She is the author of RED: A History of the Redhead and The Animal's Companion.
Praise For…
---
"Colliss Harvey has an eye for surprising details and a lovely way with description."
— Sunday Times

"Undaunted by the seedier aspects of the great diarist's character, Jacky Colliss Harvey's new walking guide to London invites us to step into Pepys's shoes on five carefully plotted routes. . . . it cannot help but leave the reader with a profound sense of architectural loss."
— The Telegraph

"A stunning read hardback edition simply perfect for your pocket. . . The real beauty of this book is that you do not have to travel to London, from the comfort of your chair Jacky is your guide and there are maps that lead you along each walk."
— The Last Word Book Review

"Walking Pepys's London is a guide through what remains of the Restoration city in our own times and quite a lot that doesn't. It also functions as a brief introduction to Pepys's life and writing, as well as a trivia-filled Baedeker for Westminster, the Square Mile and the south bank of the River Thames. The writing is crisp, the directions are clear, the maps are usable; it even includes a short index. At 150 pages, it is as good a book of its kind as one could hope for, and I urge anyone with a fondness for Pepys to buy it."
— Times Literary Supplement

"Bringing together geography, biography, and history, Jacky Colliss Harvey reconstructs the sensory and emotional experience of Pepys's time. Full of fascinating details, Walking Pepys's London is a sensitive exploration into the places that made the greatest English diarist of all time."
— Gnome Appreciation Society