Python Programming: The Easiest Python Crash Course to go Deep Through the Main Application as Web Development, Data Analysis and Data Sci (Computer Science #1) (Hardcover)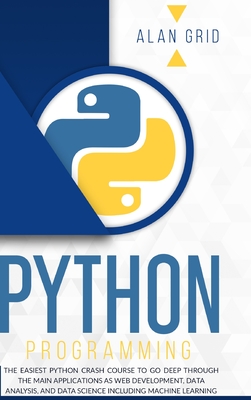 $37.84

Usually arrives at our store within 4-7 days
Description
---
Win the Trust of Your Clients with this Professional Book
Why Python has been proclaimed by the most Professional Techs as the best Scripting Language ?
Do you want to learn Coding from scratch?
Python is presumably the easiest-to-learn and nicest-to-use programming language in widespread use. Python code is clear to read and write, and it is short without being cryptic.
It is a very powerful language, which means that we can generally write far fewer lines of Python code than would be needed for an equivalent application written in, say, C++ or Java.
Python is typically typed in an implicit and dynamic format; hence, there is no requirement to declare variables. These types are enforced, and the variables are sensitive to cases. There is no definite array of characters used to terminate statements in Python.
Any statement which expects a level of indentation is concluded using a colon sign. Multiple variables can also be used on a single line.
This book covers the following topics:
- The 7 main Features of Python
- Why you should use Python
- What is the best Python web app framework and why
- Data Types in Python
- Conditional Statements
- Why is Python so popular in Machine Learning
- ...&Lot more
In Python Programming, the English language is mainly used in coding many keywords. The mastery of these keywords means knowledge of the fundamental aspects of python programming.
However, before delving into these primary keywords, you have to understand the basic concepts associated with Python. These concepts are necessary to understand every other aspect of the scripting language.
By reading this book, you're off to a great start. It is designed to ease your way into Python programming world.
So, Ready to Become a Master of Python?
Get Customers Addicted to Your Store