50+ Greatest Intermediate Classics for Recorder: Instantly recognisable tunes by the world's greatest composers arranged especially for the intermedia (Paperback)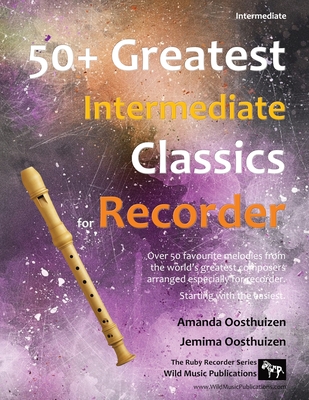 $13.87

Usually arrives at our store within 4-7 days
Description
---
A fantastic collection of favourite melodies by Bach, Beethoven, Vivaldi, Handel, Chopin, Mozart, Rossini, Grieg, Tchaikovsky, Borodin, Verdi, Puccini, Bizet, Elgar, Paganini, Dvoř k, Saint-Sa ns, Schumann, Strauss and more, arranged especially for the intermediate to advanced soprano/descant recorder player, starting with the easiest. All are in easy keys. Great for sight reading practice or just for fun.
Assuming a good knowledge of the recorder and music reading, some pieces are one page, others longer; the music ranges across three octaves although the easier pieces range up to second octave A; with plenty of familiar melodies.
50+ Greatest Intermediate Classics for Recorder follows on from our popular 50+ Greatest Classics for Recorder which is much easier, contains different repertoire and shorter pieces.
If you're looking for recorder duets, you may like our Intermediate Classic Duets for Recorder or Wicked Duets; Devilish Duets; Shanties and Sea Songs; all books are available for two descants, and descant and treble. Look out for our instrument specific music theory books, recorder theory for very young children and for our vast array of music arranged for mixed instruments: Flute, Clarinet, Bassoon, Mini-Bassoon, Tenoroon, Oboe, Saxophone, Recorder, Trumpet, Trombone, Tuba, French Horn, Violin, Viola, Cello and Double Bass
We have a spectacular variety of duet books, a gargantuan selection of festive books (including Halloween ) and even downloadable playalong and backing tracks and sheet music on our website. Just visit WildMusicPublications.com or for news of our latest releases, why not follow us on twitter? @WMPublications