2023 Moon Goddess Diary – Northern Hemisphere (Calendar)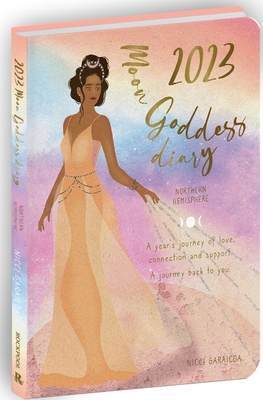 Description
---
This beautifully illustrated planner will guide and support you through 2023 while you gain knowledge to harness the energy of the moon and connect with your inner Goddess.

This full-color, beautifully illustrated diary has been written with such love and care you will feel it flow effortlessly from its pages and into your life. It will teach you how to harness the energy and guidance of the Moon, the seasons and the sacred celebrations of 2023, so you can thrive throughout your whole year.

You will learn how to use crystals, essential oils, affirmations, rituals, and songs to harness your potency and your inner Goddess. By choosing this diary, you will receive two meditations for a new and full Moon, along with a Facebook community of support and extra guidance.

This diary will guide you through 2023, teaching you to live in harmony and alignment with the Moon and Mother Nature, transforming your life into one of clarity, balance, ease, and joy.
About the Author
---
Multi-talented author, speaker, intuitive, healer, medicine woman, and kinesiologist, Nicci Garaicoa writes in ways that connect straight to your heart and fills you up with love. She is best known for her Full Moon Meditations, which attract thousands of people to her local beach and are watched worldwide by thousands more. Garaicoa can often be found somewhere in nature, paddling on the ocean, walking through the Australian bush, or bathing under the Moon with her husband, children, or fur babies.
karmabeing.com.au

Olivia Bruki is a freelance illustrator based in Mexico and the illustrator of The Pure Magic Oracle. Her passion is to illustrate bohemian and spiritual themes inspired pieces, always with a flowery and dreamy touch. She works in traditional and digital mediums and also likes to combine both techniques in her illustrations.