Silencing of the Lambs: Wokeism and Cancel Culture's Attack on Christianity in Australia (Paperback)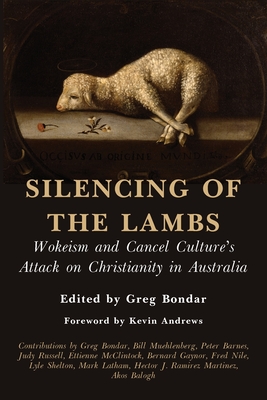 $29.95

Usually arrives at our store within 4-7 days
Description
---
Contributions by Greg Bondar, Bill Muehlenberg, Peter Barnes, Judy Russell, Ettienne McClintock, Bernard Gaynor, Fred Nile, Lyle Shelton,
Mark Latham, Hector J. Ramirez Martinez, Akos Balogh
"The message of this book is that everyone has a duty to oppose cancel culture which is dividing society and fomenting mistrust. The Gospel's instruction is clear: 'Let each one of you speak truth with his neighbour'."
Nick Cater, Executive Director, The Menzies Research Centre
"The prevalence of cancel culture is a sign that we've devolved from a Western liberal democracy to a woke mob 'democracy' where two Marxist wolves and the conservative lamb vote on what's for lunch. It's high time for the lambs to become lions and fight back. Greg Bondar's book is a great start."
George Christensen MP, Federal Member for Dawson (QLD)
"This is a book that aims to bring attention to the need for all Australians to protect our 'Right to Life' without being cancelled.'
Dr Rachel Carling Former Victoria State MP, Former CEO Right to Life NSW
"Cancel Culture, as an Angry Child of White Man's Guilt is rampaging through Western Institutions. And the Church is an Arch-Pariah on its List. The Angry Child seems to disdain the Holy Child it is tossing out with the Church's dirty bathwater. And the Church is near paralysed in the dilemma of what to defend and what to confess. We can do both at the same time for repentance is not weakness and courage is a great virtue. Thank you, Greg, for gathering these courageous voices. May God gather equally courageous readers to know what needs saving and what is better burnt."
Rev Charles Newington, Former Chairman, FamilyVoice Australia
"Whatever your faith, readers of this book will understand what it means to be persecuted and cancelled by the left with its aggressive intolerance of Judeo-Christian values. We know "
Dr David Adler, President Australian Jewish Association