Beyond Good and Evil (Paperback)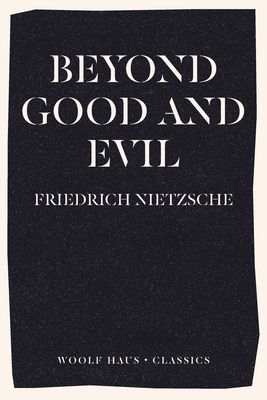 Description
---
Beyond Good and Evil is one of the most scathing and powerful critiques of philosophy, religion, science, politics and ethics ever written - an essential summary of Friedrich Nietzsche's philosophy.
One of the most iconoclastic philosophers of all time, Nietzsche dramatically rejected notions of good and evil, truth and God. Beyond Good and Evil is one of the most remarkable and influential books of the nineteenth century.
Beyond Good and Evil represents Nietzsche's attempt to sum up his philosophy. It demonstrates that the world is steeped in false piety and infected with a 'slave morality'. With wit and subversive energy, Nietzsche demands that the individual impose their own 'will to power' upon the world.
In nine parts the book is designed to give the reader a comprehensive idea of Nietzsche's thought and style: they span "The Prejudices of Philsophers," "The Free Spirit," religion, morals, scholarship, "Our Virtues," "Peoples and Fatherlands," and "What Is Noble," as well as epigrams and a concluding poem.
"He who fights with monsters should be careful lest he thereby become a monster. And if thou gaze long into an abyss, the abyss will also gaze into thee."- Friedrich Nietzsche
About the Author
Friedrich Nietzsche (1844-1900), German classical scholar, philosopher, and critic of culture, who became one of the most influential of all modern thinkers. His attempts to unmask the motives that underlie traditional Western religion, morality, and philosophy deeply affected generations of theologians, philosophers, psychologists, poets, novelists, and playwrights. He thought through the consequences of the triumph of the Enlightenment's secularism, expressed in his observation that "God is dead," in a way that determined the agenda for many of Europe's most-celebrated intellectuals after his death. He was an ardent foe of nationalism, anti-Semitism, and power politics.
Nietzsche once wrote that some men are born posthumously, and that is certainly true in his case. The history of philosophy, theology, and psychology since the early 20th century is unintelligible without him. Nietzsche's great influence is due not only to his originality but also to the fact that he was one of the German language's most-brilliant prose writers.