Holy Macro! It's 2,500 Excel VBA Examples: Every Snippet of Excel VBA Code You'll Ever Need (CD-ROM)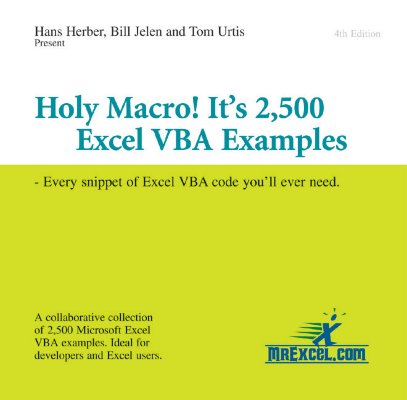 This item is not available.
Description
---
This guide to unleashing the power of Microsoft Excel by using Excel's VBA programming language shows nonprogrammers how to solve real-life problems with Excel VBA. Thousands of concise code samples are accompanied by sample workbooks in a question-and-answer format that describes each specific task.

About the Author
---
Hans Herber runs Germany's leading Excel website, www.herber.de, and is author of several German language resources on Microsoft Excel. Bill Jelen is the principal of MrExcel.com and the author of Mr. Excel on Excel. He lives in Uniontown, Ohio. Tom Urtis owns Atlas Programming Management—a Microsoft Office, VBA, and business management consulting corporation. He lives in Cupertino, California.