Seven Tenths: The Sea and Its Thresholds (Paperback)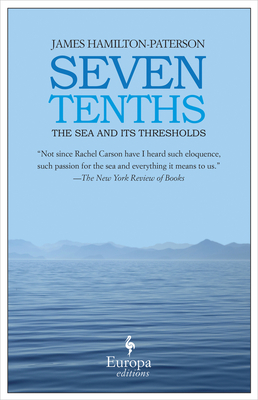 $16.00

Usually arrives at our store within 4-7 days
Description
---
James Hamilton-Paterson's classic exploration of the sea, Seven Tenths is a beautifully written blend of literature and science that includes the acclaimed essay "Sea Burial." Hamilton-Paterson writes about fishing, piracy, ecological crises, and is especially brilliant on the melancholy fascination of those border places and moments when the sea and land meet and the human experience seems transient.

Taking humanity's complex relationship with the sea as its starting point, Seven Tenths is an enticing meditation on the sea as the physical birthplace of the human race and the emotional source of our dreams. Shifting effortlessly between the sciences and the humanities—between cartography and poetry, between ecology and philosophy—Hamilton-Paterson has created one of the most engrossing works on the sea in recent memory. The prose is never less than stunning, even as it is employed to describe exactly what happens to a human body during a burial at sea, as it sinks slowly through miles of water.

At a time of growing concern about our degradation of the oceans, this extraordinary book is an immensely relevant and powerful reminder of the power, fragility and sublime beauty of the sea.
About the Author
---
James Hamilton-Paterson lives and works in Italy. He is the author of several novels, including Loving Monsters and Gerontius, winner of the Whitbread Best First Novel Award in 1989, a collection of essays dedicated to the lost grandeur of the sea entitled Seven Tenths, and several non-fiction books including America's Boy, a study of Ferdinand Marcos and the Philippines. He is also the author of two books of poetry and a regular contributor to Granta.
Praise For…
---
"The kind of book that, were he alive now, Shelley might have written."
-Charles Sprawson

"Hamilton-Paterson's hallucinogenic narrative brings to mind both Coleridge and Borges."
- Cristopher Hirst

"Personal, quirky, scientific, and poetical by turns-The Songlines of the sea."
-Daily Telegraph (UK)

"[Hamilton-Paterson] logs the destruction of the last wilderness and its place in the imagination with the intense vision of an angry Thoreau."
-Observer (UK)

"Should be required reading for the decision makers of every maritime nation."
- The New York Times Book Review

"Under the sparkle and often superb imagery lie austere Conradian depths."
- Sunday Telegraph (UK)

"Not since Rachel Carson have I heard such eloquence, such passion for the sea and everything it means to us."
-The New York Review of Books