Foundations for Teaching English Language Learners: Research, Theory, Policy, and Practice (Paperback)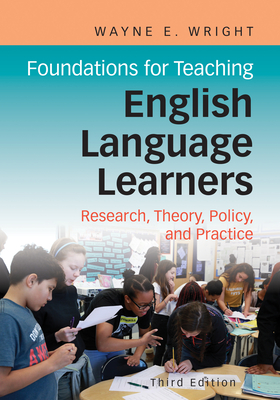 Description
---
All teachers and administrators must know how to educate multilingual students, particularly English language learners
Foundations for Teaching English Language Learners: Research, Theory, Policy, and Practice
by Wayne E. Wright is a comprehensive course text on ELL education for pre-service elementary and secondary teachers as well as literacy, special education, English as a second language (ESL), and bilingual specialists. This foundational text also targets educational leaders, including coaches, counselors, directors, and administrators working toward equity and excellence in multilingual schools and communities. This text prepares educators to meet state competency requirements in ELL education. Foundations for Teaching ELLs includes an interactive companion website with extensive resources for students and professors. Professors appreciate the Professor Control Panel on the site, which includes slide presentations that Dr. Wright has made to accompany each chapter, a sample course syllabus, and much more.
Students Learn To
Make research-based decisions on ELL policies, programs, practices, and assessment
Relate language and literacy teaching and learning theories and practice
Differentiate core content-area instruction for multilingual learners, including ELLs
Teach oral language, reading, and writing in all content areas
Use students' home languages and technology as resources for learning
Special Features
Guiding questions and key terms
Tables, boxes, figures, glossary
Vignettes, teaching strategies, samples of student work
Chapter review activities, discussion questions, research activities, recommended readings
Companion website
Professor Control Panel on companion website
New to the Third Edition
A stronger multilingual perspective on ELL education, with attention to new research, theory, and practice on dynamic bilingualism and translanguaging
New regulations, accountability requirements, and flexibility regarding ELLs since the reauthorization of The Every Student Succeeds ACT(ESSA) in 2018
Greater focus on the complex language and literacy demands of the Next Generation Science Standards as well as other content-area standards--not just for ELLs, but for all students
New research on ELLs in content-area classes from the National Academies of Sciences, Engineering, and Medicine in their 2017 report Promoting the Educational Success of Children and Youth Learning English: Promising Futures.
The integration of new principles by Teachers of English to Speakers of Other Languages (TESOL, 2018) for the exemplary teaching of ELLs.
About the Author
---
Dr. Wayne E. Wright is the Associate Dean for Research, Graduate Programs, and Faculty Development; Professor; and the Barbara I. Cook Chair of Literacy and Language in the College of Education at Purdue University. He provides training for future and current educators in the areas of English as a second language teaching methods, literacy, assessment, technology, and research. Wright is a former teacher in bilingual and other ELL classrooms, and has extensive experience as a researcher with students, families, communities, and in schools in the United States and internationally.