The New England Gardener's Year: A Month-by-Month Guide for Maine, New Hampshire, Vermont. Massachusetts, Rhode Island, Connecticut, and Upstate New York (Hardcover)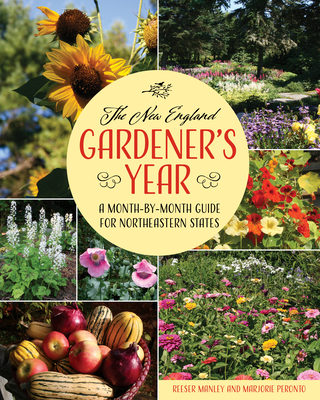 Description
---
This comprehensive full-color what-to/when-to/how-to reference manual covers every garden and landscape planting including the most proven and popular as well as many native New England plants that deserve to be better known. Month-by-month guidance from March through October—with suggested dates for planting and tending adjusted for each zone—is augmented by advice on such topics as soil testing, composting, pruning, landscape design, and how to provide a season-long source of pollen and nectar for beneficial insects.
Gardeners will find advice and photos for adapting to any microclimate or situation including shade; wet soil; coastal landscapes; container, raised-bed, and extended-season gardening; and much more.
Gardeners and landscapers will treasure this book for its elegant writing and full-color photography, its photo-essay tours of outstanding owner-maintained gardens throughout New England, its focus on organic methods and native plants, and its guidance on integrating gardens of every variety into their surrounding landscapes.
Photo sequences of key techniques enhance the book, which is designed and indexed to provide instant access to the information a gardener needs at hand. In Reeser Manley and Marjorie Peronto's view, the plots of land on which we live are not our "yards" but our gardens—extensions of the surrounding natural world—and we, as gardeners, are caretakers of that world. They advocate gardening in tune with nature— avoiding pesticides, chemical fertilizers, and invasive plants, while creating a garden that enhances local biodiversity. The New England Gardener's Year will guide you to a garden of great beauty and bountiful harvests.
About the Author
---
Reeser Manley holds a Ph.D. in Horticultural Science and has gardened for many years in Massachusetts and Maine, and before that in South Carolina and Washington state. He is the author of The New England Gardener's Year.

Marjorie Peronto is a University of Maine professor with 20 years' experience teaching courses in ornamental gardening, ecologcal landscaping, and home food production. She trains Master Gardener Volunteers to conduct community outreach projects that promote sustainable gardening and food security. She is the author of The Nea England Garderner's Year.