Cruising From Boston to Montreal: Discovering coastal and riverside wonders in Maine, the Canadian Maritimes and along the St. Lawrence River (Paperback)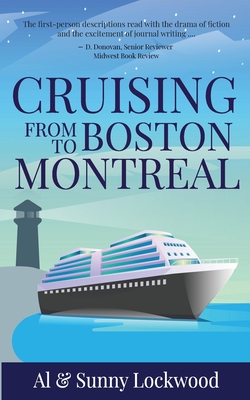 $14.95

Usually arrives at our store within 4-7 days
Description
---
Discover historic wonders and modern delights guaranteed to enlarge your heart and expand your understanding of Canada and its people.
Veteran travelers Al and Sunny Lockwood share their adventures and misadventures on this scintillating cruise of exploration. Join them for an unforgettable journey through part of the largest country in the Western Hemisphere.
In "Cruising from Boston to Montreal" readers will:
- attend a rousing baseball game at Boston's Fenway Park
- learn Alexander Graham Bell's involvement with Canada's first airplane flight.
- visit the Prince Edward Island farm that was the setting for the Anne of Green Gables books.
- discover how lobster graduated from barnyard feed to gourmet fare.
- sail Canada's greatest waterway, the mighty Saint Lawrence River.
- view breath-taking cathedrals and romantic lighthouses.
- discover Halifax's heart-breaking connection with the Titanic tragedy.
- and much, much more.
This travel memoir will introduce you to the fascinating heroes, stunning beauty, and staggering tragedies that have helped shape Canada's Maritimes, Quebec City, and Montreal.