My Life Beyond Neurofibromatosis: A Mayo Clinic patient story (Paperback)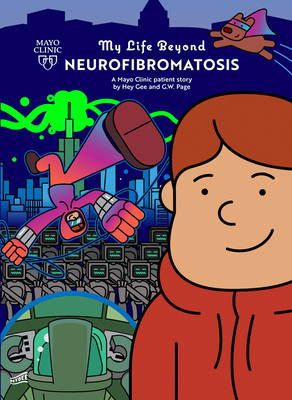 $8.99

Usually arrives at our store within 4-7 days
Description
---
When mysterious events are endangering people around New York City, a young boy with neurofibromatosis uses his hidden powers to discover the cause – and finds out he's the perfect person to save the day.

Leo, a boy with neurofibromatosis, is visiting New York with his family after some treatment. But everywhere they go, mysterious things keep happening. The T-Rex at the American Museum of Natural History comes to life. The ice rink in Central Park transforms into mountains of ice. Then something is making people sick all over the city.

In each case, Leo – together with his dog, Clark – uses his hidden powers to tackle the dangers and save others. But what could be causing all these strange events? Are they connected? When Leo spots a green light coming from the Empire State Building, it's up to him and Clark to solve the mystery and find out what, or who, is behind it. He'll find out it's not only his hidden powers but also his diagnosis that make him the perfect hero for the moment.
About the Author
---
G.W. Page was diagnosed with a rare genetic condition called Neurofibromatosis (NF) as a baby, after his mom noticed some new birthmark-type spots on his legs. When he was 3 years old, an MRI revealed a large tumor in G.W.'s brain, requiring surgery to remove it. At age 9, G.W. has an extensive team of doctors who routinely monitor him for new tumors or other NF-related problems, which can be very unpredictable. With his positive outlook and fierce courage, even as the youngest of his siblings, he sets a big example for his family about choosing how to react when things go wrong or we're afraid. He loves playing sports, creating art, fishing, fantasy football, cooking with his dad, and being a goofball with his big sisters. When he grows up, G.W. hopes to become a professional sports analyst.

Medical editor Dr. Babovic-Vuksanovic is a pediatrician and clinical researcher in genetics at Mayo Clinic. She leads several collaborative studies looking at children, adolescents and young adults with neurofibromatosis 1 and progressive plexiform neurofibromas as well as adult patients with neurofibromatosis 1 and extensive plexiform and paraspinal neurofibromas. Dr. Babovic-Vuksanovic is passionate in her work toward a better understanding of various genetic syndromes and metabolic disorders, aiming to improve diagnosis, treatment and outcomes for patients with these conditions.