Bible Stories: Great Men and Women from Noah through Solomon: Updated and Expanded 30th Anniversary Edition of Tales from the Old Testament (The Jim Weiss Audio Collection) (CD-Audio)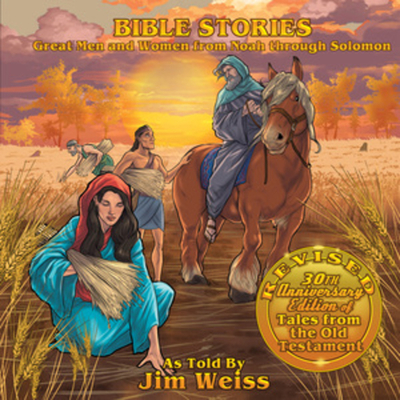 Description
---
Jim Weiss brings his skill at dramatic storytelling to ancient tales of people whose faith, courage, and wisdom still fascinate us today.
To celebrate the 30th anniversary of his much-loved audiobook, Tales from the Old Testament, Jim Weiss has created an all-new edition, including


improved audio quality throughout


all new artwork


expanded and updated biographies of Abraham and Solomon


two new stories: "Hannah's Prayer" and "Samuel and Saul"


These new and expanded episodes from the Bible combine with classic favorites like "Noah's Ark", "The Story of Ruth", and "David and Goliath" to present non-denominational portrayals of biblical characters as caring, understandable human beings facing extraordinary situations.
About the Author
---
In 1989, Jim Weiss set out on a mission: to record the greatest stories he knew from world literature and history, and inspire families -- especially young listeners -- with a passionate love of the original classics. In the three decades since then, Jim's narration voice and seemingly numberless character voices have formed foundational entertainment and education for millions of listeners around the world.
Winning hundreds of awards, Jim's recordings range on the literary side from fairy tales through stories from Shakespeare, Dickens and Conan Doyle, while his history recordings bring to vivid life major historical events and personalities from the ancient world through the twentieth century.
The inspiration for all this began early, with parents and grandparents who told stories and read aloud to him, skills which Jim joyously acquired, and which led him to a degree in Communications and Speech from the University of Wisconsin, Madison. Later, his wife, Randy, earned her own national awards as a teacher and counselor, and their shared passion for learning led to forming their company in 1989, long before the explosion of spoken word recordings made this a "sensible" decision. The recordings began winning listeners and national awards from the first. A few years ago, the Weiss's licensed their recordings and business operations to Well-Trained Mind Press, which has successfully introduced Jim's work into still more markets, while Jim continues to write, record, teach and perform.

Jeff West is an established illustrator and his variety and bulk of work is expansive, ranging from traditional art to art for TV and movies. He recently earned himself an Emmy nomination and has worked on blockbuster shows and films. He resides in Arizona.