Maximilian & the Curse of the Fallen Angel (Max's Lucha Libre Adventures #4) / Maximilian & La Maldición del Ángel Caído: A Bilingual Lucha Libre Thri (Paperback)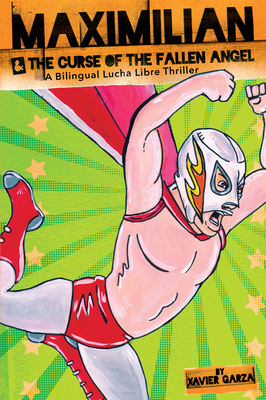 $18.95

Usually arrives at our store within 4-7 days
Description
---
Maximilian &the Curse of the Fallen Angel is the fourth book in Xavier Garza's award-winning series Max's Lucha Libre Adventures. Fourteen-year-old Max struggles with the biggest heartbreak of his life--his hero just announced his last match ever as the king of lucha libre
Maximilian & la madici n del ngel C ido es el cuarto libro de la galardonada serie Max's Lucha Libre Adventures por Xavier Garza. Max batalla con la peor tragedia de su vida: su h roe acaba de anunciar su ultima pelea como el rey de la lucha libre
It's the end of an era Max's uncle --legendary luchador, the Guardian Angel-- is getting married and walking away from wrestling Max was set on taking over the wrestling role, but not so soon. He's just fourteen To make matters worse, his uncle chose a wild new wrestler for his last match, the Fallen Angel. If the villain wins, will the legend of the Guardian Angel die before Max is ready to put on the mask?
Es el fin de una era El t o de Max --el legendario luchador, el ngel de la Guarda-- se va a casar, y retirarse de la lucha libre Max quer a ser la siguiente persona a asumir el papel del h roe enmascarado, pero no tan pronto. Solo tiene catorce a os Y para colmo, su t o escogi un nuevo luchador temerario para su ultima pelea, el ngel Ca do. Si gana el villano morir la leyenda del ngel de la Guarda antes de que Max est listo para ponerse la mascara?
Catch up on the Max's Lucha Libre Adventures adventures series:
1--Maximilian and the Mystery of the Guardian Angel / Maximilian y el misterio del ngel de la Guarda
2--Maximilian and the Bingo Rematch / Maximilian y la revancha de bingo
3--Maximilian and the Lucha Libre Club / Maximilian y el club de Lucha Libre
Praise For…
---
"Through Max's struggle to handle his hero's news, Garza reflects on the often-outsize expectations we heap onto our heroes and the personal sacrifices they make to become athletes and entertainers. The steadily paced narrative, accented by offbeat characters and moments of sincerity and growth, resembles a tender family sitcom. " -- Booklist
"Another entertainingly pulpy, action-packed Lucha Libre--themed tale... Juicy subplots worthy of the best telenovelas are related with Tex-Mex linguistic flare, keeping the pace fast and the twists fresh." -- The Horn Book
"Garza shows a new mastery of his characters--all Mexican--and fictional world in this latest installment. Apart from Max's continued growth, each character shines, no matter how small an appearance they may make. In the end, what readers get is an assured, joyous story full of lucha libre antics and poignant familial bonding.
Max's finest adventure thus far." -- Kirkus Reviews