The Game Master's Book of Traps, Puzzles and Dungeons: A punishing collection of bone-crunching contraptions, brain-teasing riddles and stamina-testing encounter locations for 5th edition RPG adventures (The Game Master Series) (Hardcover)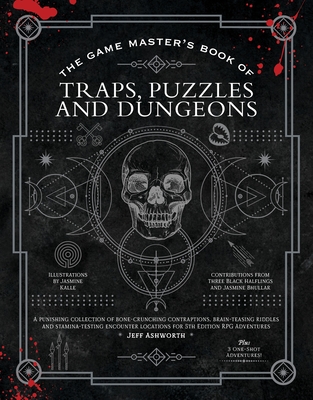 Description
---
The Game Master's Book of Traps, Puzzles and Dungeons provides GMs with endless options for populating their adventures with challenging riddles, puzzles, spiked pits, Rube Goldberg-style deathtraps and much more - everything they need to push player character to their limit and bring new levels of excitement (and anxiety) to their game play.

Whether part of a pre-planned adventure or a random encounter, these brain teasers, puzzles and traps will make every dungeon crawl, fortress break-in, or temple sacking that much more fun. GMs will find more than 60 challenging puzzles, 60 unique traps and 50 modular dungeon chambers, each with its own set of possible encoounters, meaning GMs can generate a fully-functional (or completely dilapidated) dungeon in a few rolls of a dice. With intricate technical illustrations, beautifully rendered top-down location maps and three one-shot adventures, written by RPG inflencers including Jasmine Bhullar and the creators of the Three Black Halflings podcast, The Game Master's Book of Traps, Puzzles and Dungeons is the ideal tool for any GM hoping to put the fun back in fun-geon*.

*not a word.
About the Author
---
Jeff Ashworth is a writer, editor, storyteller and gamer whose credits include the bestselling The Game Master's Book of Random Encounters and The Game Master's Book of Non-Player Characters, as well as work for Disney, Hasbro, Nickelodeon, and World Wrestling Entertainment. When he isn't working on special projects for Newsweek or Media Lab Books, he enjoys playing and designing RPG games with his friends. He and his wife live in New York City with their dog, Zelda.

Jasmine Kalle hails from the sunny state of Queensland, Australia. She is an artist, mapmaker and RPG enthusiast, with a Master of Arts from the University of Queensland. She has a special love for all things sci-fi and fantasy. She spends her free time playing and leading D&D campaigns, drawing fantastic people and creatures, and petting any cat that may cross her path.

Jasmine Bhullar is an actress, internet personality and content creator best known for her daily livestreams at twitch.tv/thatbronzegirl as well as the many RPG productions she's been part of. She's not only an experienced tabletop RPG player, but a skilled Game Master as well. She got her start on Geek & Sundry, which led her to play the infamous "Beryl the Brutal" on Relics and Rarities. She's also the creator, host and GM of Shikar, a new D&D 5th Edition game on Twitch. When she's not reading science fiction novels, Jasmine enjoys creating video game, RPG and comic book content.

Jasper William Cartwright, Luyanda Unati Lewis-Nyawo and Jeremy Cobb are the creators of the popular Three Black Halflings podcast. They're three nerdy friends with strong opinions and even stronger Charisma scores. Through their podcast, they explore diversity in Dungeons & Dragons, the world's most popular tabletop roleplaying game, and pop culture in general, while doling out DM tips, thought-provoking conversations, a band of guests and good times!
Praise For…
---
"As sharp as a razor-spiked pit and as clever as a sphinx with a Ph.D. in puzzlecraft. If you see your DM toting this book around, you'd better bring your "A" game, too!"
— Matt Forbeck, New York Times-bestselling author, Dungeons & Dragons: Endless Quest, Marvel Multiverse Role-Playing Game

"A fantastic drag-and-drop resource for any GM who wants to shake things up and challenge their players with unique scenarios. The Game Master's Book of Traps, Puzzles and Dungeons is a must have for your collection—sure to add fun to your adventures for years to come."
— Aaron Hübrich, Publisher and Creative Director, Jetpack7

"Offers a ton of unique puzzles and encounters at various challenge levels for any group of players to tackle."
— The Mary Sue

"A great answer for players in your group that are looking for a bit more than just bashing monsters' heads in."
— The Geekly Grind

"Kick back, flip open a page and start building a dungeon your players will never forget!"
— Jim Davis and Jonathan Pruitt, Web DM

"This book is an essential addition to any dungeon master's arsenal. It's packed full of challenging riddles, puzzles, spiked pits, and Rube Goldberg-style death traps to make any game session an epic adventure."
— FOX 31 (TV)

"Jeff Ashworth does a great job explaining how to use traps appropriately, giving great DM advice. Well-written and well-laid out."
— Flint Fireforge, YouTube Host

"You're going to like what you find in this book."
— The Barn Owl Creative

"Often, players need to solve a riddle or puzzle to find a hidden treasure or break into a lair, and it can be exhausting trying to come up with the perfect idea every time. That's where The Game Master's Book of Traps, Puzzles and Dungeons comes in."
— Screenrant, Best Dungeons & Dragons Gifts

"A worthy addition to your toolbox."
— Mini Warzone