Bridging Science and Spirit: The Genius of William A. Tiller's Physics and the Promise of Information Medicine (Paperback)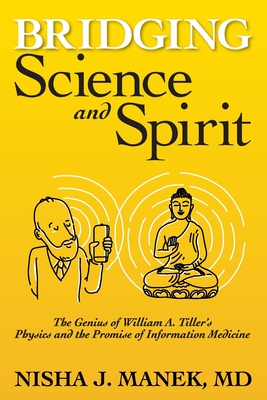 $18.99

Usually arrives at our store within 4-7 days
Description
---
In Bridging Science and Spirit: The Genius of William A. Tiller's Physics and the Promise of Information Medicine you'll discover:
- An easy-to-understand overview of William A. Tiller's most influential work
- Seven pillars that support the shared principles of science and spirit
- More than sixty drawings to clearly illustrate the core scientific concepts
- An exploration of the levels of consciousness and how they impact your relationship with reality
- An entertaining mix of history, physics, and spiritual anecdotes, and much, much more!

Bridging Science and Spirit is a simple guide for unlocking the capacity of human intention. If you like expert insights, complex scientific concepts explained in everyday language, and intellectually energizing material, then you'll love Dr. Nisha Manek's unprecedented resource.

About the Author
---
Nisha Manek is a former esteemed member of Mayo Clinic's Division of Rheumatology and an internationally recognized leader of Integrative Medicine. In her commitment and dedication to innovative approaches to health and wellness, she seeks to synthesize and unify her work as a physician and scientist with Spiritual inquiry and practice. Related to the subject of consciousness and healing, Nisha moderated HH 14th Dalai Lama's visit to Mayo clinic in 2008. She is a fellow of the American College of Physicians and the Royal College of Physicians of the United Kingdom.
Praise For…
---
"I expect Bridging Science and Spirit to become popular in the pantheon of books exploring consciousness. It will inform, educate, and even entertain readers."

— C. Norman Shealy, MD, PhD,
author of Conversations with G: A Physician's Encounter with Heaven

"Dr. Nisha Manek's work with Dr. Bill Tiller is forefront in the field of consciousness studies. Her book Bridging Science and Spirit coalesces the vision of these two maverick scientists and innovative thinkers. It takes us to the edge of current research on the limits, or lack thereof, of consciousness and the awesome potential of integrative healthcare beyond what was thought possible."

— Hope Phillips Umansky, PhD, CEO and Academic Dean of the California Institute for Human Science

"The father of the field of psychoenergetics, William A. Tiller, PhD, has been one of few experts leading the movement to merge modern science and thousands of years of mystical science. His massive contribution to this movement is in need of greater public awareness. In Bridging Science and Spirit, Dr. Nisha Manek unravels not only core concepts of psychoenergetics but also Tiller's concept of Information Medicine."

— Mikhail Kogan, MD, Medical Director, George Washington Center for Integrative Medicine, Associate Director, Geriatric
Fellowship, George Washington University, and Founder and President, AIM Health Institute