Broke in America: Seeing, Understanding, and Ending US Poverty (Hardcover)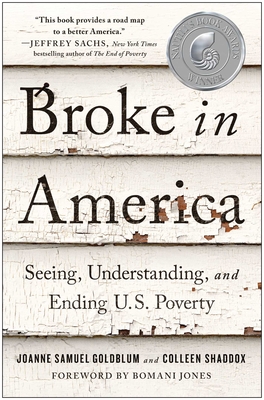 Description
---
FOREWORD INDIES FINALIST — POLITICAL & SOCIAL SCIENCES
 
NAUTILUS BOOK AWARDS SILVER MEDALIST — SOCIAL CHANGE & SOCIAL JUSTICE
 
ERIC HOFFER BOOK AWARD 1ST RUNNER UP — CULTURE & MONTAIGNE MEDAL NOMINEE

"A valuable resource in the fight against poverty." —Publishers Weekly

"An exploration of why so many Americans are struggling financially . . . A down-to-earth overview of the causes and effects of poverty and possible remedies." —Kirkus Reviews

Water. Food. Housing. The most basic and crucial needs for survival, yet 40 percent of people in the United States don't have the resources to get them. With key policy changes, we could eradicate poverty in this country within our lifetime—but we need to get started now.

Nearly 40 million people in the United States live below the poverty line—about $26,200 for a family of four. Low-income families and individuals are everywhere, from cities to rural communities. While poverty is commonly seen as a personal failure, or a deficiency of character or knowledge, it's actually the result of bad policy.

Public policy has purposefully erected barriers that deny access to basic needs, creating a society where people can easily become trapped—not because we lack the resources to lift them out, but because we are actively choosing not to. Poverty is close to inevitable for low-wage workers and their children, and a large percentage of these people, despite qualifying for it, do not receive government aid.

From Joanne Samuel Goldblum and Colleen Shaddox, Broke in America offers an eye-opening and galvanizing look at life in poverty in this country: how circumstances and public policy conspire to keep people poor, and the concrete steps we can take to end poverty for good.

In clear, accessible prose, Goldblum and Shaddox detail the ways the current system is broken and how it's failing so many of us. They also highlight outdated and ineffective policies that are causing or contributing to this unnecessary problem.

Every chapter features action items readers can use to combat poverty—both nationwide and in our local communities, including the most effective public policies you can support and how to work hand-in-hand with representatives to affect change.

So far, our attempted solutions have fallen short because they try to "fix" poor people rather than address the underlying problems. Fortunately, it's much easier to fix policy than people. Essential and timely, Broke in America offers a crucial road map for securing a brighter future.
About the Author
---
Joanne Samuel Goldblum is CEO and founder of the National Diaper Bank Network, encompassing more than 200 member organizations that provide diapers and other basic needs to families across America. In 2018, she founded the Alliance for Period Supplies, which provides free hygiene products to the one in four people for whom menstruation means difficulty attending school and work. Joanne has spent her career working with and advocating for families in poverty. She has written op-eds for Washington Post, US News & World Report, and HuffPost. She has been an ABC Person of the Week and the subject of profiles by CNN, People, and many other outlets. Joanne is an inspiring and in-demand speaker. In 2007, she was chosen as one of 10 Robert Wood Johnson Community Health Leaders on the basis of her work to found the New Haven Diaper Bank.

Colleen Shaddox is a print and radio journalist and activist. Her publication credits include New York Times, Washington Post, National Public Radio, America, and many more. She left daily newspapers when an editor reprimanded her for "writing too many stories about poor people" and went to work in a soup kitchen. She has had one foot in journalism and one in non-profits ever since. In states throughout the country, Colleen has worked on winning campaigns to get kids out of adult prisons, to end juvenile life without parole, and to limit shackling in juvenile courts. She is a frequently anthologized fiction writer. Her award-winning play, The Shakespeares, and other dramatic works have been performed around the country.
Praise For…
---
"Written for the benefit of economic and governmental policy makers, Broke in America is thoroughly accessible to the non-specialist general readers with an interest in the subject of poverty in the United States and what can be done about it—especially in the light of the new incoming Biden administration and its approach to improving economic conditions for the working poor and the middle class."
—Midwest Book Review

"This book's greatest strength is its organization and clarity. Not another political statement that is sure to divide people into "camps" of opinion, this is a clear analysis of how public policy in the United States works to keep people trapped in poverty, rather than find their way out."
—Jon M. Sweeney, contributing editor for books and new media at Spirituality & Practice

". . . Broke in America pulls no punches about the reality and extent of poverty in the US, and the litany of reasons why it exists . . ."
—Julia Mandeville, National Association of County and City Health Officials (NACCHO)

"The strength of this book is the authors' street-level reporting on the daunting challenges many Americans in poverty face—even on matters as basic as safe drinking water."
—Timothy Lamer, executive editor of WORLD Digital and interim editor of WORLD Magazine

"Clear, concise, and packed with facts, figures, and suggestions for action, Broke in America shows that poverty is not the result of individual laziness or 'bad choices' but of economic and social policies that produce inequality by design."
—Katha Pollitt, columnist for The Nation

"America is a country of paradox: the world's greatest wealth together with deeply entrenched poverty in its many forms, including homelessness, hunger, unsafe water, under-provisioned schools, and unaffordable energy, transport, health, and other basic needs. The authors open our eyes to these grim realities and how they can be overcome."
—Jeffrey D. Sachs, university professor at Columbia University

"Broke in America is a tour de force. The authors strip poverty to its bare truth. Millions of people in a nation of plenty cannot afford basic needs such as water, housing, food, energy, education, and mental health access. Thanks to Joanne Goldblum and Colleen Shaddox, there is no ignoring the immorality or the inhumanity of that—nor of the path forward . . . It is a timely call to action for anyone who dares to envision a world that does not resign children, seniors, or neighbors to poverty and suffering." 
—Rosa DeLauro, US Representative, Connecticut

"Explains why America must fix the problem of poverty rather than blaming it on the people it afflicts. Goldblum and Shaddox also offer a road map to a better future."
—Emily Bazelon, national bestselling author of Charged and Sticks and Stones

"In the richest country in the history of the world, an eye-opening and humanizing testament to the realization that no one should be poor. At a time of crisis when we are re-envisioning and reconstructing our relationship with government and with each other, this is the book we need."
—Mona Hanna-Attisha, author of What the Eyes Don't See and pediatrician in Flint, Michigan

"At a tumultuous time in US history, many of us are asking ourselves what kind of country we want. I hope that we can work toward the vision laid out in Broke in America: a United States without poverty."
—Jodie Adams Kirshner, author of Broke: Hardship and Resilience in a City of Broken Promises

"A valuable resource in the fight against poverty."
—Publishers Weekly

"An exploration of why so many Americans are struggling financially . . . A down-to-earth overview of the causes and effects of poverty and possible remedies."
—Kirkus Reviews