Notre-Dame de Paris: A Captivating Guide to One of the Most Famous Catholic Cathedrals of Medieval Europe (Paperback)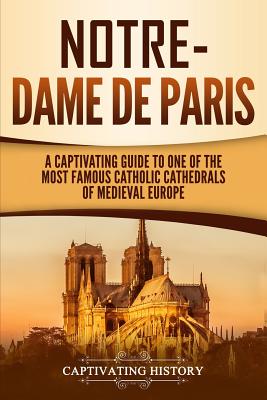 $19.97

Usually arrives at our store within 4-7 days
Description
---
If you want to discover the captivating history of Notre-Dame de Paris, then keep reading...
It was with horror and sadness that the people of the world opened their social media or switched on their televisions on April 15th, 2019, only to see terrifying pictures of smoke and flames roaring around one of the most iconic outlines in France: that of Notre-Dame de Paris. The cathedral attracts more visitors than the Eiffel Tower (an estimated 13 million annually), and it has become a favorite with tourists and Parisians alike. Mass is still conducted there regularly, and when the fire destroyed part of Notre-Dame, all of the world mourned.
There is more to Notre-Dame, however, than just a tragic fire. Almost nine centuries of history lie behind its weathered towers, and its history is closely interlinked with that of France and its people. Its story has rung out through the ages as one of hope and survival, a tale of fear and destruction turning into courage and renovation. Its characters range from novelists to saints, from daredevils to kings, from generals to emperors. Its themes stretch across the spectrum, from humanity's greatest darkness to the warmth of the human spirit; it tells stories about exceptional brutality and exceptional grace, of the greatest terror of them all and of dauntless courage. Kings were crowned here, emperors seized power, Nazis paraded the streets, and saints strove valiantly to break sieges. There were wars and revolts, there were requiems and battles, there were suicides and stunts, and there were feats of human engineering that still baffle the modern mind.
And above all, now and always, then and forever, there is hope.
The world watched Notre-Dame burn. Now, it's time for the world to hear its story.
In Notre-Dame de Paris: A Captivating Guide to One of the Most Famous Catholic Cathedrals of Medieval Europe, you will discover topics such as
Before Notre-Dame
The Construction of a Cathedral
A Curse and a Coronation
The First Ransacking
Louis Times Two
Surviving Revolution
The Emperor and the Hunchback
Two Warrior Women
Withstanding the War
Part of Us Burning
And much, much more
So if you want to learn more about Notre-Dame de Paris, scroll up and click the "add to cart" button