Coding for Kids: Scratch: Fun & Easy Step-by-Step Visual Guide to Building Your First 10 Projects (Great for 7+ year olds!) (Paperback)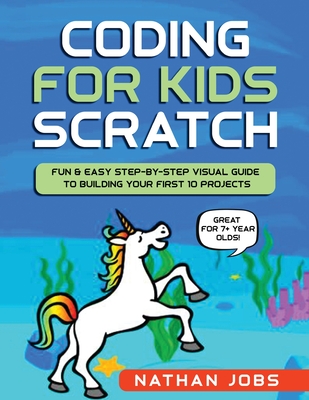 $24.99

Usually arrives at our store within 4-7 days
Description
---
Are you looking for an exciting hobby for your child, that will also boost their skillset at the same time?
Perhaps your children have been bugging you for something to do, and you are looking for some inspiration for a hobby that they can do that will also test their skills.
What if I told you there was a book that could teach your child skills that will take their future job prospects to a whole new level, while also being fun at the same time?
Well, look no further
Coding for Kids: Scratch offers children fun, engaging projects that they can get stuck into, with the added bonus that the skills they will take from this book can be transferred into job prospects later in life.
In an ever growing, technology-focused world, coding skills and computer skills in general are becoming more and more essential for every child. Wouldn't you want to give them a head start on their learning, while also giving them an exciting and captivating project to complete?
Scratch coding is an excellent foundation for any child, and an investment in their future. What makes it so great for children is that it is drag and drop coding, and the projects laid out in this book make creating commands and games so easy and fun to do
Inside Coding for Kids: Scratch, discover:
● Why it is so important for children to learn code at an early age
● Why scratch is the ideal coding language for beginners
● How to utilize smart devices to develop your child's learning
● How to grasp the simple concepts of programming in a fun and exciting way
● How to create fun coding projects that a child can do independently
● How to stay safe on the internet while also being able to learn and develop skills
● Why purchasing this book is a worthwhile investment in your child's future
And much, much more
Don't you think that it is time to invest in your child's future, while also providing them with fun and entertaining hobbies to fill their time?
Then grab a copy of Coding for Kids: Scratch today, and take their skillset to whole new levels and set them apart from other children their age