The Last Session Vol. 1 (Paperback)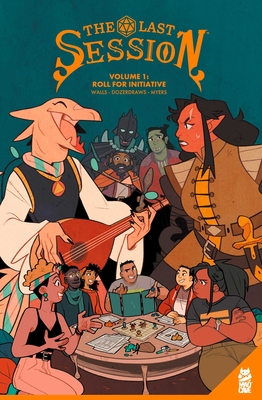 Description
---
ROLL FOR INITIATIVE Jay, Lana, Drew, Walter, and Shen began playing Dice & Deathtraps in high school. Now dealing with college and all the twists and turns of their lives, their weekly game has been a wonderful constant. But, as college graduation looms and it feels like their lives are all moving down very different paths, Lana's thrilled to finally finally complete the party's unfinished original campaign. But when Jay's partner Cassandra joins the game, Lana refuses to let her inexperience ruin the best part of her week! But in the end, that may be Lana and the party's undoing… Writer Jasmine Walls (SEEN: Edmonia Lewis) and artist DOZERDRAWS (Lumberjanes) weave a heartfelt story of friends learning to cope with all the changes that come from growing up. Collects issues #1- 5.
About the Author
---
Jasmine Walls is a California based writer, artist, and hot chocolate connoisseur with a passion for stories that are fun, engaging, and critical. Her works are unapologetically queer, inclusive, and span across several genres.

Dozer is a nonbinary illustrator, comic artist and bird parent from Germany. They've done work on BOOM! Studios' Lumberjanes, several German TV and movie illustration and animation gigs, and their own wrestling fan-comic. They are always looking for new exciting stories and diverse characters to illustrate!

Micah Myers left college after three semesters into an Associate Degree in Graphic Design to become a professional comic book letterer. Micah has worked on comics for Image, Dark Horse, IDW, Mad Cave, Scout, Lions Forge, and many more. He lives in Portsmouth, Virginia with his wife and two kids.
Praise For…
---
"The Last Session is a story that places equal emphasis on the in-game tale and the "real world" story, creating a narrative that that is utterly irresistible."
— Avery Kaplan

"Readers looking for a story about how friendships are meant to grow & evolve, regardless of how firmly fixed a given circle might be, may find a lot to love here."
— The Pullbox

"With art that screams animation, Dozerdraws brings writer Jasmine Walls' story to the page with charm and whimsy. Between that and Walls' skill of capturing the fear and uncertainty of [the players] moving on with their lives, the story is extremely relatable and well told."
— Geek Vibes Nation

"A fun, and cozy look at friendships and how they form and develop through the lens of D&D. [...] The characters feel like real people, and I felt an immediate attachment to them when I started reading this story. The art is lovely and celebrates the diversity of the group with living, breathing characters. If you're a member of a longtime TTRPG group or just like nerdy interpersonal relationship stories, then this one is worth your money."
— But Why Tho

"This comic, like D&D itself, transports you to another world, full of joy."
— Talking Comicbooks

"This comic is wholesome and does an incredible job showing the fondness the cast has for this game and each other. It taps into the positives of nostalgia and how it can bring together old friends, even after many years of separation."
— Luke Henderson

"The Last Session is a fantastic series, and this collected edition brings it all together into one heartfelt story about friendship, bonding and acceptance of others [...] It's such a brilliant book and I can't wait to see what happens next."
— Media Mallrat

"A comic perfect for those looking for a bit of a feel good read, also perfect if you are partial to a dice game or two this will definitely be up your street."
— Dave Jones

"Walls writes a hilarious, wholly relatable story, to anyone who's played a fantasy RPG. Dozerdraws art is perfect."
— The Unreality Store

"The characters are uniquely distinct and they have a sweet friendship through gaming that certainly is relatable to anyone who's felt a thrill from a roll of the dice with more than six sides."
— Gabriel Hernandez