Crock Pot Cookbook for Beginners: 600 Quick, Easy and Delicious Crock Pot Recipes for Everyday Meals Foolproof & Wholesome Recipes for Every Day 2020 (Hardcover)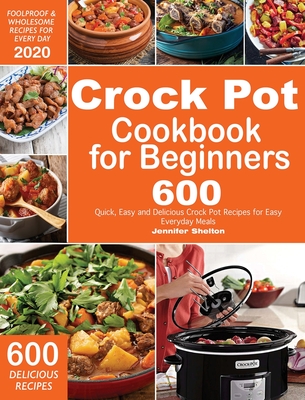 Description
---
Master Your Crock Pot and Impress Your Whole Family with 600 Easy and Delicious Recipes
You will be amazed at how easy it is to cook your favorite dishes with the Crock Pot Being busy does not give you the right to eat out at night. While eating out is convenient, you are not sure that the food that you are eating contains healthy ingredients. The thing is that you can eat delicious and healthy meals despite your busy schedule if you have a crockpot.You don't need to learn exceptional kitchen skills
to make delicious and nutritious foods in your very own kitchen. With the Crock Pot, you can whip up your favorite comfort foods without breaking a sweat. With this nifty kitchen device, you will be able to prepare delicious meals any time of the day.
This Cookbook consists of fresh and foolproof top 600 delicious recipes under various chapters such as:
Breakfast RecipesSeafood RecipesChicken and Poultry RecipesPork RecipesBeef and Lamb RecipesVegetables RecipesSoup RecipesMore and more
With this cookbook, you will soon make the best dishes ever and you will impress everyone around you with your home cooked meals What are you waiting for?Get your copy now and Enjoy hassle-free cooking with your Crock Pot...