Leaf Talks Peace: Buddha's Message of Harmony (Hardcover)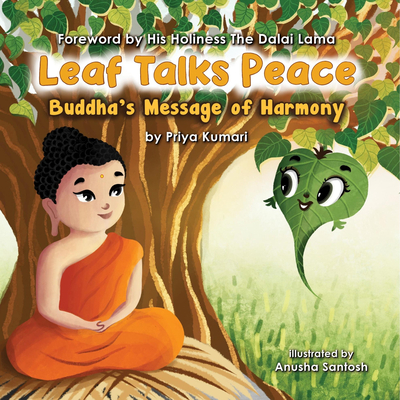 Description
---
Leaf Talks Peace spreads the Buddha's message of interconnectedness of all beings through the eyes of a tiny peepal leaf called Harmony, who lives on the Bodhi Tree. Buddha sits under the tree and sees the entire universe breathing happily through this one leaf. He sees in Harmony the Sun, the earth, stars, clouds, rain, time, space, and mind.

Harmony speaks to encourage readers, children and parents alike, to slow down and imagine all that is contained in a single leaf. Each leaf, and each child is connected to all in the fragile earth to learn its wisdom and strive to protect it.

Additional notes are included to help parents and teachers with questions children have as they begin to understand the concepts of Harmony, connection, and the link each of them has to join together as conscious global citizens.
About the Author
---
Priya Kumari was born and raised in the scenic foothills of the Himalayan Mountains. She inherited her love of reading and passion for the written word from her father, who owned a bookstore. The rich and detailed history of Indian culture and mythos is the source for her own books focusing on humane values of diversity and connection in the hopes of bringing future generations together. Priya is a certified public accountant who lives in New Jersey with her husband and two sons.
Praise For…
---
"A beautifully illustrated book that teaches children the importance of living in harmony with nature and with all forms of life. I hope that it will contribute to a better awareness of the responsibility each of us has to protect our environment." —Foreword by His Holiness The Dalai Lama

…It is a jewel of thoughts as it encourages young readers to protect cultural diversity and perceive themselves as a reflection of harmony seen in nature." —His Holiness The Kenting Tai Situpa, The Supreme Head of the Palpung Institution of Buddhist Dharma, Palpung Sherabling Monastic Seat, HP, India

"…Dear children, this lovely book is your shloka, your hymn to tread the glory of life...These simple pictures are the poetry of peace in the sinews of nature...." —Prof. Lokesh Chandra, Director of International Academy of Indian Culture and author of classics like Dictionary of Buddhist Iconography and Tibetan-Sanskrit Dictionary

"May this book bring Peace and Harmony within and without to everyone whoever reads it and facilitate in establishing a harmonious society…" —Ven. Dr. Dhammapiya, Secretary General of International Buddhist Confederation, New Delhi