Never Too Old to Save the World: A Midlife Calling Anthology (Paperback)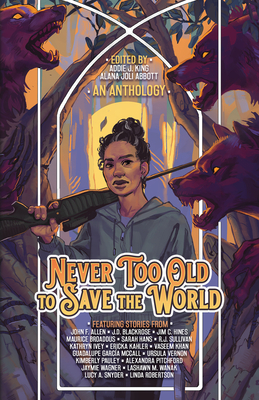 Description
---
Once every generation there is a Chosen One, who will stand between humanity and darkness.
But why is the Chosen One so often a teenager? Why do only children get swept through portals to save the fantastic world on the other side? Whose idea was it to put the fate of the world in the hands of someone without a fully developed prefrontal cortex?
In Never Too Old to Save the World, nineteen authors explore what would happen if the Chosen One were called midlife. What would happen if the Chosen One were:
a soccer mom
a cat lady
a nosy grandmother
a social worker
a retiree
an aging swordmaster? 
The Chosen One could be anyone—because when the universe calls, the real question is whether the hero will take up the mantle and answer their midlife calling. Sometimes the world needs a hero who's already been in the thick of chaos and survived. In those cases, age does matter.
About the Author
---
Alana Joli Abbott is Editor in Chief of Outland Entertainment, where she co-edits fantasy and science fiction anthologies, such as Where the Veil Is Thin, APEX: World of Dinosaurs, and Bridge to Elsewhere. As a writer, her multiple choice novels, including Choice of the Pirate and Blackstone Academy for Magical Beginners, are published by Choice of Games. She is the author of three novels, several short stories (including one for this anthology), and many role playing game supplements. You can find her online at VirgilandBeatrice.com. Addie J. King is an attorney by day and author by nights, evenings, weekends, and whenever else she can find a spare moment. Her novels, THE GRIMM LEGACY, THE ANDERSEN ANCESTRY, THE WONDERLAND WOES, THE BUNYON BARTER, and THE PERRAULT VOW are now available from Loconeal Publishing, now an imprint of Hydra Publications. Her novel, SHADES OF GRAY, is the first book in The Hochenwalt Files series and is also available. A collection of her short stories has been published, entitled DEMONS, HEROES, AND ROBOTS, OH MY! She has also contributed a story to this anthology.