Why God is the True Author of the Bible: Penned by Men But Authored by God (Hardcover)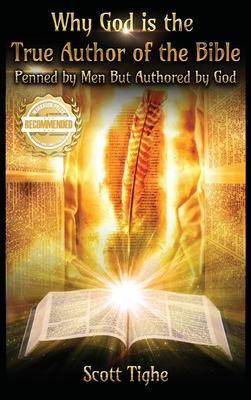 $16.99

Usually arrives at our store within 4-7 days
Description
---
This book is a compilation of biblical, scientific, and archeological information put together to show that the Bible had to have an Author outside of the time domain, which could reveal information to men in the present, which they would copy down, but that would speak of things that would happen in the future.
The book contains information accumulated over many years relating to the subject at hand. Much of the information I have learned to help me write this book has been from great Bible teachers, scholars, and others such as Dr. Paul Brand, Hal Lindsey, Grant Jeffrey's, Dr. D. James Kennedy, John Blanchard, Phillip Yancey, and a few others which I have compiled and am sharing in this book. The rest of the material is original writing inspired by the Holy Spirit. The goal of this book is to show the amazing accuracy of the Bible in the information that is revealed in it, and 'that because' we live on 'this side' of history, we can check the facts, and see that the prophecies have come, and are coming true just as they have been declared in the Bible.
One of my goals is for you to discover some understanding of what I call the 'whole picture of the puzzle' that I discovered after over 12,000 hours of studying the Bible, comparative religion, history, and other Bible related material. The knowledge I gained caused me to discover how all of the 66 books fit together precisely. This knowledge along with my own personal experiences drive me to want to share with you the reader, the words and message of this book. My prayer is that you will discover the same life changing benefits that I have found as God has revealed the truth of His Word to me. You will find some of the same information repeated more than once as you read different sections pertaining to the basic structure of the Bible, and how prophesy is 'the' separating factor to all other religious writings. The things that are 'repeated' are information I would like you to focus on trying to remember in the end, as you read them several times throughout the book. May this book change you in a positive way that brings glory to God.