The Promise of a Normal Life: A Novel (Hardcover)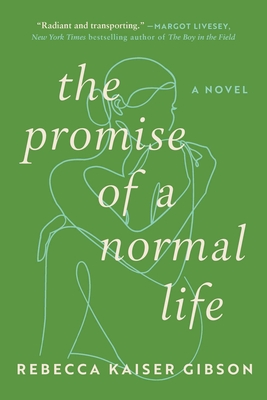 Description
---
For readers of Marilynne Robinson, Elizabeth Strout, and Katie Kitamura, the indelible journey of a quiet young woman—the "silent person" in the Seder—finding her way.  

Hailed as "radiant and transporting" (Margot Livesey), The Promise of a Normal Life is a poet's debut novel, so evocative of life as lived that it transports you to a time and place you can practically see, touch, and feel. The unnamed narrator is a fiercely observant, introverted Jewish-American girl who seems to exist in a private and separate realm. She's the child of a first-generation doctor and lawyer—whose own stories have the loud grandeur of family legend—in an America where Jews are excluded from the country club across the street. Her expectations for adulthood are often contradictory. In the changing landscape of the 1960s, she attempts to find her way through the rituals of life, her geography expanding across the country, across the ocean, and into multiple nations. 

Along the way, she meets a glamorous hairdresser on a cruise ship to Israel, loopy tarot-card-reading passengers, and Alice-in-Wonderland lawyers in Haifa. There's a blue-eyed all-American college boyfriend, a mystified tourist agent in the Lofoten Islands, a handsome eligible rabbi in LA, a righteous and self-absorbed MIT professor, and a clandestine, calculating lover in Boston. Eventually, she finds her own compass, but only after being swept to several distant shores by many winds.
About the Author
---
Rebecca Kaiser Gibson is the author of the poetry collections Girl as Birch and Opinel. Her work has appeared in Slate, Agni, the Los Angeles Review of Books, Northwest Review, the Massachusetts Review, Tupelo Quarterly, Harvard Review, Green Mountain Review, Pleiades, and many other magazines. She taught creative writing at Tufts University for twenty-three years and has received writing fellowships from MacDowell, Vermont Studio Center, the Virginia Center for Creative Arts, and the Massachusetts Cultural Council. She lives in Marlborough, NH.
 
Praise For…
---
"A sharply provoking woman's tale and intricate emotional puzzle . . . Poet Gibson's finely written, mordantly witty, bittersweet first novel portrays a Jewish family at odds with itself and a woman slowly coming into her own during the radical changes of several distinct decades."—Booklist

"Rebecca Kaiser Gibson writes with a poet's precision and a novelist's sense of character as she deftly evokes her narrator's family, childhood summers, friendships, travels, and love affairs. The result is a radiant and transporting novel which carries the reader along with its wonderful sense of time and place."—Margot Livesey,New York Times bestselling author of The Boy in the Field

"The Promise of a Normal Life is an exquisitely written book. Rebecca Kaiser Gibson's debut follows an unnamed protagonist  who often rebels against her dominant and powerful mother by acquiescing to the desires of the men she loves, believing her ability to thrive hinges on compliance. The novel unfolds in a riveting series of experiences that interrogate womanhood, desire, religion, race, and privilege on the path to personal liberation. It is a novel that haunts through restraint."—Cleyvis Natera, author of Neruda on the Park 

"The Promise of a Normal Life  is a stunning story beautifully told. With themes of exile, loneliness, and family, it's a book about the triumph of a human spirit and what we must sometimes go through to reach our destination and find our voice along the way." —Melissa Scholes Young, author of The Hive and Flood 

"A liquid voice describes the tenuous journey of a young, unsure girl into womanhood. Each line is considered, tells a story unto itself. This is pure gold."—Andy Weinberger, author of the Amos Parisman Mystery Series

"A  psychologically captivating tale . . . Rebecca Kaiser-Gibson portrays one of the most interesting and fraught mother-daughter relationships in contemporary literature and offers insights into what it feels like be left on one's own to develop the scaffolding necessary to support a rich inner life."—Delia Kostner, PhD, Psychoanalyst, Faculty Boston Psychoanalytic Society and Institute

"The Promise of a Normal Life, with its arresting beauty and candor relayed in lapidary prose, keeps reminding us that its author is a poet. Rebecca Kaiser Gibson has delivered a novel to treasure."—Jonathan Wilson, author of A Palestine Affair