Buddhism: Buddhism For Beginners: How To Go From Beginner To Monk And Master Your Mind (Paperback)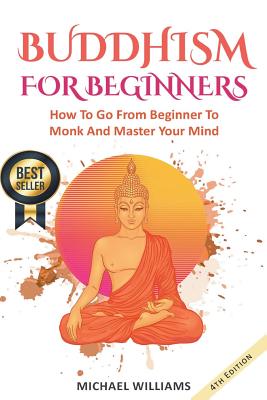 $11.97

Usually arrives at our store within 4-7 days
Description
---
Fourth Edition Now Available with even more Beautiful Content "Every morning we are born again. What we do today is what matters most." -Buddha Have you longed for a sense of peace in your life? Have you found yourself craving a kind of happiness you cannot define? Have you ever considered how Buddhism might enrich your life?
Forget what you think you may know about this ancient and culturally significant religion, and open your mind to the limitless possibilities that Buddhism has in store for you.
Over 2,500 years old and just as vibrant and powerful as ever, the teachings of the Buddha have transcended language, culture, and time-and remains one of the most influential forms of practice and higher thought on Earth. Learn how to ease suffering from your life and achieve ultimate happiness through the understanding and practice of Buddhist teachings. Buddhism for Beginners succeeds as a fine introduction to the Buddha's life, and how the practical application of his teachings can benefit all of us who seek a deeper connection to the world around us. Here's what to expect in the Beginners' guide:
A comprehensive understanding of what Buddhism is and where it comes from
Who Buddha was and how his teachings apply to the modern world Karma and why you've been looking at it the wrong way What mindfulness is and what it is not A guide to Vipassana and the art of accepting reality An introduction to meditation and its benefits A glimpse into the everyday life of monks And much, much more
Beautifully crafted and conveyed with all the gravity and loveliness its topic demands, this guide for beginners is a breath of fresh air.
If you are ready to enrich your life and accept a higher way of thinking, look no further than this introductory guide to Buddhism and its benefits. Begin your journey with Buddhism for Beginners: How to Go From Beginner to Monk and Master Your Mind today.
"Happiness does not depend on what you have or who you are. It solely relies on what you think."
About the Author
---
Author Michael Williams is a globetrotter whose prolific traveling has taken him across every continent on earth and allowed him to cross paths with a diverse collection of cultures and people. His extensive travels have gifted him with an incredible amount of insight that he has, in turn, adapted to his teachings in the various practices of Buddhism, meditation, yoga, wellness, and happiness. Dedicating himself to the practices of Buddhism and the disciplines of meditation and yoga has afforded Michael a lifetime of benefits, and has enhanced his well-being. Through his journey towards enlightenment and peace of mind, Michael has developed clear and easy-to-follow guides to understanding the benefits of adopting Buddhist methods and ideas into one's daily life. He has authored Buddhism for Beginners: How to Go From Beginner to Monk and Master Your Mind as an introduction to these topics. He finds great joy in sharing the clarity of an open mind with others and seeks to empower readers to explore the realms of elevated thought and action in their own lives. Michael has found the pursuit of mindfulness especially beneficial and employs the art of meditation every day in order to reap the benefits of a clear mind. His hope is to encourage others to practice mindfulness as a way of freeing themselves from anxiety and the dangers of stress. His book Mindfulness for Beginners: How to Live in the Present, Stress, and Anxiety Free, explores these benefits and lays out a groundwork for employing mindfulness in everyday life. A student of life, Michael Williams finds meaning and connection within all things. His dream is to assist others along the path of introspection, higher thinking, and mindfulness.