East of East: The Making of Greater El Monte (Latinidad: Transnational Cultures in the United States) (Hardcover)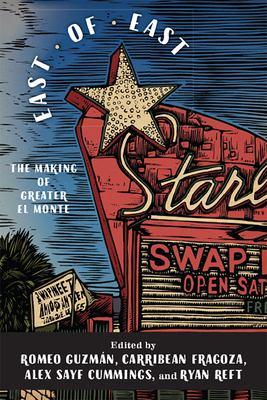 Description
---
East of East: The Making of Greater El Monte, is an edited collection of thirty-one essays that trace the experience of a California community over three centuries, from eighteenth-century Spanish colonization to twenty-first century globalization. Employing traditional historical scholarship, oral history, creative nonfiction and original art, the book provides a radical new history of El Monte and South El Monte, showing how interdisciplinary and community-engaged scholarship can break new ground in public history. East of East tells stories that have been excluded from dominant historical narratives—stories that long survived only in the popular memory of residents, as well as narratives that have been almost completely buried and all but forgotten. Its cast of characters includes white vigilantes, Mexican anarchists, Japanese farmers, labor organizers, civil rights pioneers, and punk rockers, as well as the ordinary and unnamed youth who generated a vibrant local culture at dances and dive bars. 
 
 
About the Author
---
ROMEO GUZMÁN is the co-director of the South El Monte Arts Posse and an assistant professor in US and Public History at Fresno State, where he is the founding director of the Valley Public History Initiative: Preserving our Stories.

CARRIBEAN FRAGOZA is a journalist, fiction writer, and artist from South El Monte. She is the founder and co-director of the South El Monte Arts Posse.

ALEX SAYF CUMMINGS is an associate professor of History at Georgia State University and the author of Democracy of Sound: Music Piracy and the Remaking of American Copyright in the Twentieth Century.

RYAN REFT is a historian of the Modern United States in the Manuscript Division at the Library of Congress.
 
 
Praise For…
---
"Richly layered and movingly felt, East of East is a collaborative history of a seemingly ordinary place revealed as a crossroads of the local and the global. A remarkable interleaving of scholarship and the intimacy of memory."
— D.J. Waldie

"East of East makes several important interventions. First, it is part of an exciting movement to reclaim the histories and geographies of cities from the bottom up. Second, it focuses on a vital but completely overlooked part of LA history - El Monte. Essential reading for all those interested in southern California."
— Laura Pulido

"Welcoming Boom's New Editorial Team" mention of East of East
https://boomcalifornia.com/2019/08/07/welcoming-booms-new-editorial-team/
— Boom California

"Who owns history? New book reconsiders San Gabriel Valley's pioneer past," Greater LA hosted by Steve Chiotakis
https://www.kcrw.com/news/shows/greater-la/lausd-police-el-monte/sgv-el-monte-history-book
— "Greater LA," KCRW

"East of East digs up the dirt of greater El Monte to find what is left of 'us' — for the authors and contributors born and raised there, and for the Indigenous, immigrant, multiracial, multicultural and transnational communities brought to vivid life in these pages. It writes 'us' back into the narratives that erased us and writes new ones to remind us that white pioneer settlers are just part of the story, not the center of it." 
— KCET.org

"San Gabriel Mission fire provokes deep, conflicting reactions," by Gustavo Arellano
https://www.latimes.com/california/story/2020-07-13/san-gabriel-mission-fire-morning-mass
 
— Los Angeles Times

"For 100 Years, El Monte Has Celebrated a Blatant Historical Falsehood. Why? A Southern California City Has a Rich, Multi-Ethnic Past That Its Foundational Myth Erases," by Romeo Guzmán
https://www.zocalopublicsquare.org/2020/08/19/el-monte-end-of-the-santa-fe-trail-true-history/ideas/essay/
— Zócalo Public Square

"The editors of East of East see deeper truths. Greater El Monte, it turns out, is the setting for a story as rich and tangled as the flora that still covers the Whittier Narrows Recreation Area, a patch of parkland that lies, relatively unspoiled, in the watershed the El Montes call home."
— Los Angeles Review of Books

"How Authors Are Reaching Book Lovers in the Age of COVID-19," by Teena Apeles
https://www.kcet.org/shows/southland-sessions/how-authors-are-reaching-book-lovers-in-the-age-of-covid-19
— KCET.org

"Your history-buff friends all want this magical book for Christmas."
— The Press-Enterprise

"Best of all, East of East is both chronicle and challenge to all of us: Know your local history, document it and spread its gospel to the world, no matter how seemingly small."
— Los Angeles Times

"Combining creative nonfiction, oral history, and traditional scholarship, the various writings here reclaim the histories and geographies of the urban fringe these writers call 'east of east.' What makes this area so significant is that it's been a point of 'contact between farmworkers, punks, white supremacists, suburbanites, Zumba dancers, and civil rights activists.'" 
— L.A. Taco

"Scholars and regular people will find something to enjoy in East of East. Tourists and Locals alike will have a refreshingly informed understanding next time they go cruising through the streets of Aztlán and find themselves on Durfee in El Monte, remembering novelist Salvador Plascencia's description of Durfee Avenue. What a great gift, or textbook. East of East is scholarship done right. Órale to the publishers and especially lead editors Romeo Guzmán and Carribean Fragoza."
— La Bloga

"The 10 best California books of 2020: Featuring 32 essays by writers including Alex Espinoza, Salvador Plascencia and Fragoza, this anthology seeks to restore the 'silenced histories' of El Monte, the small working-class city in eastern Los Angeles County, while also re-imagining its future as a community in its own right. 'The future will not happen in the cities or the suburbs,' the editors write, 'but in the middle, and El Monte and South El Monte have always been in the middle.'"
— Los Angeles Times, The 10 best California books of 2020

"It can and should be an inspiration for likeminded collaborative and multi-disciplinary projects seeking to redress the many wrongs of exclusive historical memory. As stated in the epilogue, localized areas like greater El Monte are often active in national and transnational operations of many kinds 'in broader networks of trade, work, kinship, culture and migration.' This book provides a solid grounding in better understanding these interrelationships, even as 'the rest of its stories have yet to be told.'"
— The Public Historian

"A tale of two cities: El Monte's battle to preserve its Latinx history," by Erik Adams
— University Times

"Ethnic Studies Comes Into The Classroom And Onto The Streets," by Julia Barajas
— LAist