High Conflict: Why We Get Trapped and How We Get Out (Hardcover)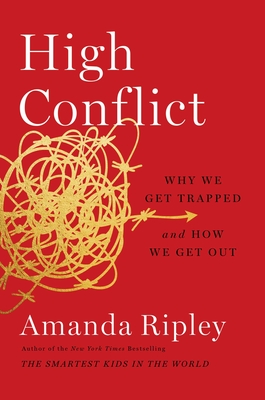 $28.00
Email or call for price
Description
---
When we are baffled by the insanity of the "other side"—in our politics, at work, or at home—it's because we aren't seeing how the conflict itself has taken over.

That's what "high conflict" does. It's the invisible hand of our time. And it's different from the useful friction of healthy conflict. That's good conflict, and it's a necessary force that pushes us to be better people.

High conflict, by contrast, is what happens when discord distills into a good-versus-evil kind of feud, the kind with an us and a them. In this state, the normal rules of engagement no longer apply. The brain behaves differently. We feel increasingly certain of our own superiority and, at the same time, more and more mystified by the other side.

New York Times bestselling author and award-winning journalist Amanda Ripley investigates how good people get captured by high conflict—and how they break free.

Our journey begins in California, where a world-renowned conflict expert struggles to extract himself from a political feud. Then we meet a Chicago gang leader who dedicates his life to a vendetta—only to find himself working beside the man who killed his childhood idol. Next, we travel to Colombia, to find out whether thousands of people can be nudged out of high conflict at scale. Finally, we return to America to see what happens when a group of liberal Manhattan Jews and conservative Michigan corrections officers choose to stay in each other's homes in order to understand one another better.

All these people, in dramatically different situations, were drawn into high conflict by similar forces, including conflict entrepreneurs, humiliation, and false binaries. But ultimately, all of them found ways to transform high conflict into something good, something that made them better people. They rehumanized and recatego­rized their opponents, and they revived curiosity and wonder, even as they continued to fight for what they knew was right.

People do escape high conflict. Individuals—even entire communities—can short-circuit the feedback loops of outrage and blame, if they want to. This is a mind-opening new way to think about conflict that will transform how we move through the world.
About the Author
---
Amanda Ripley is the New York Times bestselling author of The Smartest Kids in the World, High Conflict, and The Unthinkable. She writes for The Atlantic, Politico, The Washington Post, The New York Times, and The Wall Street Journal, among other publications.
Praise For…
---
"Insightful and enthralling...with a scrupulous eye for scientific evidence that is rare in a book this entertaining, Ripley also explains how it is possible for hardened combatants to leave behind the conflicts that once defined the core of their identity." — New York Times Book Review

"Amanda Ripley has combined skilled reporting, deep research, and riveting storytelling into a stellar work about an urgent topic. At a moment when too many Americans are at each other's throats, this is the book our country needs." – Daniel H. Pink, author of When, Drive, and To Sell is Human

"Rarely have I read a book as downright clairvoyant as High Conflict. While most of us were raging at the rage in our culture, Amanda Ripley composed a lucid, compulsively readable roadmap to a world in which we can live with one another again. Honestly, I'll never argue the same way again." – Evan Osnos, National Book Award winning author of Joe Biden

"Ripley brilliantly illuminates the forces driving us to build impenetrable walls between ourselves and differing others, as well as the forces empowering us to build bridges over those walls. The lessons couldn't be more captivating or timely." — Robert Cialdini, author of Influence and Pre-Suasion

"This is one of the most important books that will be published in 2021. The COVID vaccine will soon free humanity from a biological pandemic, and this book, if widely read, could free humanity from an equally deadly scourge— high conflict." – Jonathan Haidt, Thomas Cooley Professor of Ethical Leadership, NYU-Stern School of Business, author of The Righteous Mind, co-author of The Coddling of the American Mind

"The unforgettable stories in this book show how even people who disagree profoundly can still connect with one another and make progress. A book to give you confidence in the future." – Omar Epps

"A brilliant book that reveals how poisonous showdowns work. But more than just highlighting the problems, Ripley's book also provides solutions. Equally valuable in our personal lives, as in navigating the polarized time we're living in." – Jonah Berger, New York Times bestselling author of The Catalyst and Contagious

"Amanda Ripley shows that the same minds that get us into bitter tribal battles can get us out of them. Via riveting stories in diverse settings—urban gangland, a war-torn central American nation, fractious municipal politics—Ripley proves that happy endings can happen in real life." – Robert Wright, New York Times bestselling author of Why Buddhism is True

"The fascinating stories, global history, and dialogue from local politics Ripley includes keep the book moving at a brisk pace... Readers interested in conflict management and negotiation and the decision-making process will be intrigued as Ripley thoughtfully explains the intensities and nuances of conflict, and the crux of high conflict in any setting." — Booklist

"A revealing study of 'high conflict,' the intractable sort that seems to be running like a virus through American society... Ripley's observations are provocative, and she introduces us to ideas of mediation and problem-solving that would make many people less miserable if put into practice... Students of mediation, social psychology, and conflict resolution will find much of value here."— Kirkus Reviews

"Illuminating. Amanda takes us around the world to understand how people learn to stop demonizing the other side and start agreeing to disagree productively. I think it should be required reading for everyone in politics and the media—and for anyone who's had a squabble with a colleague or a blowup at a family gathering." — Adam Grant (LinkedIn)