Where to Begin: A Small Book About Your Power to Create Big Change in Our Crazy World (Hardcover)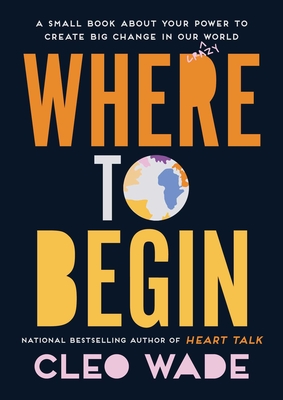 Description
---
NATIONAL BESTSELLER

Cleo Wade's second anthology of heartfelt poetry and prose builds on the wisdom of her bestselling book Heart Talk, encouraging you to remain hopeful and harness your personal power to bring positive change into our world.

Where to Begin is perfect for those who are ready to be a part of building a society rooted in love, acceptance, justice, and equality.

From Cleo Wade:

Where to Begin is a collection of the ideas, mantras, and poems I turn to when I feel like I am losing it. I wrote this so that I could put them all in one place when I felt overwhelmed by worry, fear, anxiety, or helplessness.

The words in this book are what stop me from walking away from the problems of the world during tough times. They also help me stay connected to hope during difficult moments and remind me that even on the days that feel the most daunting, I still have the power to show up and do something, somewhere, in some way.

Change-making comes in all sizes. It doesn't always have to be one big gesture or nothing. As my friend Jenna often says, "The big stuff is the small stuff." Your big life is made up of a collection of all of your small moments. Our big world is a made up of a collection of all of our small actions. This book is about where to begin.
About the Author
---
Cleo Wade is a friend, community builder, and the author of the bestselling book Heart Talk: Poetic Wisdom for a Better Life as well as Where to Begin. She has been named one of America's 50 Most Influential Women by Marie Claire, 100 Most Creative People in Business by Fast Company, and "The Millennial Oprah" by New York magazine. Cleo sits on the board of the Lower Eastside Girls Club, the National Black Theatre in Harlem, and the Women's Prison Association. When Cleo is not at home in California with her partner, Simon Kinberg, and their daughter, Memphis, Cleo can be found traveling around the country on her sold-out nationwide book tours, which have become a safe space to laugh, cry, hug, and offer support to fellow readers. Find out more at CleoWade.com.
Praise For…
---
"Author and poet Cleo Wade will make your day with her inspiring and uplifting outlook on life."
— PEOPLE

"[Cleo Wade] helps others find their power — and use it. Her words are meant as a balm and a spark; they are intended to soothe your sore spots and to motivate you to soothe the sore spots of others."
— Bustle