Searching for Savanna: The Murder of One Native American Woman and the Violence Against the Many (Paperback)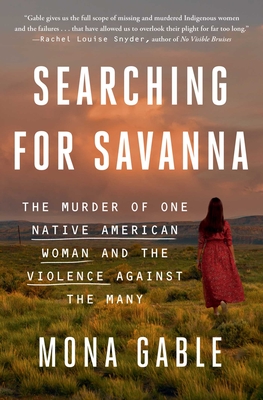 $18.99

Coming Soon - Available for Pre-Order Now
Description
---
A gripping and illuminating investigation "that is far overdue" (Rachel Louise Snyder, author of No Visible Bruises) into the disappearance of Savanna LaFontaine-Greywind when she was eight months pregnant, highlighting the shocking epidemic of violence against Native American women in America and the societal ramifications of government inaction.

In the summer of 2017, twenty-two-year-old Savanna LaFontaine-Greywind vanished. A week after she disappeared, police arrested the white couple who lived upstairs from Savanna and emerged from their apartment carrying an infant girl. The baby was Savanna's, but Savanna's body would not be found for days.

The horrifying crime sent shock waves far beyond Fargo, North Dakota, where it occurred, and helped expose the sexual and physical violence Native American women and girls have endured since the country's colonization.

With pathos and compassion, Searching for Savanna confronts this history of dehumanization toward Indigenous women and the government's complicity in the crisis. Featuring in-depth interviews, personal accounts, and trial analysis, this timely book investigates these injustices and the decades-long struggle by Native American advocates for meaningful change.
About the Author
---
Mona Gable is a freelance writer based in Los Angeles. Her work has appeared in The Atlantic, Outside, AFAR, the Los Angeles Times, and many others. Her article in Los Angeles magazine, "The Hugo Problem," was named a Longreads Best of 2015. Find out more at Mona-Gable.com.


Praise For…
---
"In Searching for Savanna, Mona Gable gives us the full scope of missing and murdered indigenous women and the failures—historical, systemic, political, racist—that have allowed us to overlook their plight for far too long. Haunting and unforgettable, you will never forget Savanna, her life or her loss. This is a book that is far overdue." —Rachel Louise Snyder, author of No Visible Bruises and Women We Buried, Women We Burned

"In this engaging and meticulously researched account centered on one horrific crime in North Dakota, Mona Gable explores the failings of the justice system and society behind the epidemic of missing and murdered Indigenous women. An urgently needed look at an epidemic of femicide by an excellent writer." —Nina Burleigh, journalist and author of The Fatal Gift of Beauty: The Trials of Amanda Knox

"Searching for Savanna is an unforgettable and important book, a powerful story of violence, injustice, and official indifference on a staggering scale, wrapped in a haunting murder mystery. The abduction and death of a shining light named Savanna, with her eerily prophetic tattoo, '. . . too beautiful for earth,' is emblematic of the larger story Mona Gable has so eloquently told: how America's long legacy of violence against Indigenous people remains a daily reality for countless Native women." —Edward Humes, author of Garbology, Burned, and The Forever Witness