There are no products in your shopping cart.
Trailblazer: The Power of Business as the Greatest Platform for Change (Hardcover)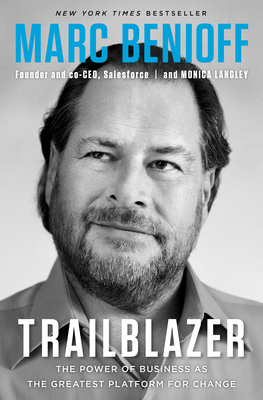 Description
---
NEW YORK TIMES BESTSELLER • The founder and co-CEO of Salesforce delivers an inspiring vision for successful companies of the future—in which changing the world is everyone's business.

"The gold standard on how to use business as a platform for change at this urgent time."—Ray Dalio, founder of Bridgewater Associates and author of Principles: Life and Work

What's the secret to business growth and innovation and a purpose-driven career in a world that is becoming vastly more complicated by the day? According to Marc Benioff, the answer is embracing a culture in which your values permeate everything you do.

In Trailblazer, Benioff gives readers a rare behind-the-scenes look at the inner workings of one of the world's most admired companies. He reveals how Salesforce's core values—trust, customer success, innovation, and equality—and commitment to giving back have become the company's greatest competitive advantage and the most powerful engine of its success. Because no matter what business you're in, Benioff says, values are the bedrock of a resilient company culture that inspires all employees, at every level, to do the best work of their lives. Along the way, he shares insights and best practices for anyone who wants to cultivate a company culture positioned to thrive in the face of the inevitable disruption ahead.

None of us in the business world can afford to sit on the sidelines and ignore what's going on outside the walls of our workplaces. In the future, profits and progress will no longer be sustainable unless they serve the greater good. Whether you run a company, lead a small team, or have just draped an ID badge around your neck for the first time, Trailblazer reveals how anyone can become an agent of change.

Praise for Trailblazer

"A guide for what every business and organization must do to thrive in this period of profound political and economic change."—Jamie Dimon, chairman and CEO of JPMorgan Chase

"In Trailblazer, Benioff explores how companies can nurture a values-based culture to become powerful platforms for change."—Susan Wojcicki, CEO of YouTube
About the Author
---
Marc Benioff is chairman, co-CEO, and founder of Salesforce and a pioneer of cloud computing. Benioff was named the Decade's Top Innovator by Forbes, one of the World's Greatest Leaders by Fortune, and one of the 10 Best-Performing CEOs by Harvard Business Review. He has won numerous awards for his leadership on equality.
 
A Fortune 500 company with more than 45,000 employees, Salesforce has been recognized as the Most Innovative Company by Forbes and the Best Place to Work and 15th Most Admired Company in the World by Fortune. Upon founding Salesforce, Benioff created the 1-1-1 model of philanthropy, giving one percent of the company's equity and product and employees' time back to communities around the world. Today, more than 8,500 companies have adopted the 1-1-1 model through the Pledge 1% movement.
 
Monica Langley joined Salesforce as executive vice president of global strategic affairs in 2017. For twenty-seven years, she was an award-winning senior writer at The Wall Street Journal, specializing in front-page profiles and news-breaking narrative stories. Langley has also been a TV news commentator, a corporate attorney, and a bestselling author.
Praise For…
---
"Trailblazer is an urgent and compelling book for anyone in business who yearns to fulfill a higher mission in the world. Marc's powerful and poignant stories of leadership remind each of us what we can achieve when we abandon "business as usual" and make our values the driving force of our work."—Richard Branson, founder of the Virgin Group, author and philanthropist

"Marc Benioff is a champion in more ways than one! I was truly inspired by his example of how values like trust, inclusion and giving back are the foundation of successful businesses and careers. Trailblazer lays out a model for a winning culture where everyone has an equal opportunity to have their voice heard."—Billie Jean King, tennis champion and social-justice and equality activist

"Benioff shares how his business became hugely successful not in spite of his determination to do what he believed in, but because of it. He provides a role model for talented young people in the business world, and for everyone who wants to make a positive impact."—Jane Goodall, primatologist and world-renowned conservationist

"With intelligence, candor and spiritual depth, Benioff generously shares invaluable lessons—often learned the hard way working through contentious and challenging situations—from two decades leading one of the world's most admired companies. From the Salesforce teams that have collectively volunteered millions of hours to improve public schools and other compelling causes, to the company's stance on social issues beyond the bottom line, Benioff sets an incredibly inspiring example."—will.i.am, Grammy award-winning artist, tech innovator, and philanthropist

"In Trailblazer, Marc shares his journey establishing a set of values deeply woven into the fabric of Salesforce. By creating a company rooted in trust, Marc explores how companies can nurture a value-based culture to become powerful platforms for change."—Susan Wojcicki, CEO of YouTube

"Corporate leaders today have to deliver growth with an eye toward societal impact. Marc Benioff is the rare CEO who has put this into practice. In Trailblazer, he shows us how he did it, and gives us a roadmap to do the same. It is a must-read book for every leader who is purpose driven. "—Indra Nooyi, former CEO of PepsiCo

"In the past, great leaders had a vision, and the brains to achieve it. But great leaders in the Fourth Industrial Revolution must have soul, in addition to brains and vision. In Trailblazer, Marc Benioff, one of the most successful and enlightened business leaders, reminds us of our responsibilities to our stakeholders, laying out a clear path for how business and technology can help build a better future for us all."—Klaus Schwab, World Economic Forum founder and executive chairman

"Marc Benioff offers a window into the values that make him a uniquely compassionate leader and a role-model capitalist. His book is a must-read for anyone who aspires to lead from a place of wisdom and truth."—Ray Dalio, founder of Bridgewater Associates and author of Principles: Life and Work