There are no products in your shopping cart.
Perfectly Clear: Escaping Scientology and Fighting for the Woman I Love (Large Print / Paperback)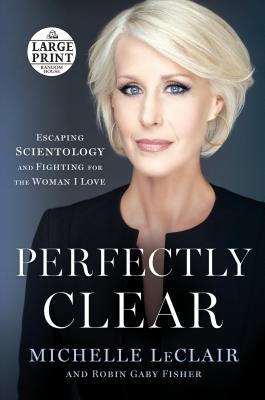 This book is no longer available.
Description
---
The revelatory memoir by former "poster girl for Scientology" Michelle LeClair about her defection from the Church, her newly accepted sexual identity, and the lengths to which Scientology went to silence it.

For years, Michelle LeClair, former President of Scientology's international humanitarian organization, tried to reconcile her sexual orientation with the anti-gay ideology of the church. Michelle finally ends her horrific marriage, finds the love of her life, a woman, and ultimately leaves the Church. But the split comes at a terrible price. Her once pristine reputation is publicly dragged through the mud, the police raid her home, her ex-husband tries to gain full custody of their children, and the multi-million dollar business she built from scratch is utterly destroyed.

In this tell-all memoir, Michelle offers an insider's perspective on Scientology's pervasive influence, secret rituals, and ruthless practices for keeping members in line. It's a story of self-acceptance, of finding the strength and courage to stand up for your emotional freedom, and of love prevailing.
About the Author
---
Michelle LeClair is the former president of Scientology's international humanitarian organization. Michelle separated from the Church in 2011.

Robin Gaby Fisher is a Pulitzer Prize-winning journalist (and three time nominee) and the national bestselling author of After the Fire and The Boys of the Dark. Robin has co-authored multiple books including Choosing Hope by Sandy Hook teacher Kaitlin Roig-DeBellis.