Lincoln in Private: What His Most Personal Reflections Tell Us About Our Greatest President (Hardcover)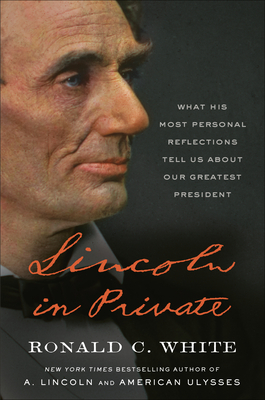 $28.00
Email or call for price
Description
---
"An intimate character portrait and fascinating inquiry into the basis of Lincoln's energetic, curious mind."—The Wall Street Journal
 
WINNER OF THE BARONDESS/LINCOLN AWARD • From the New York Times bestselling author of A. Lincoln and American Ulysses, a revelatory glimpse into the intellectual journey of our sixteenth president through his private notes to himself, explored together here for the first time

A deeply private man, shut off even to those who worked closely with him, Abraham Lincoln often captured "his best thoughts," as he called them, in short notes to himself. He would work out his personal stances on the biggest issues of the day, never expecting anyone to see these frank, unpolished pieces of writing, which he'd then keep close at hand, in desk drawers and even in his top hat. The profound importance of these notes has been overlooked, because the originals are scattered across several different archives and have never before been brought together and examined as a coherent whole.

Now, renowned Lincoln historian Ronald C. White walks readers through twelve of Lincoln's most important private notes, showcasing our greatest president's brilliance and empathy, but also his very human anxieties and ambitions. We look over Lincoln's shoulder as he grapples with the problem of slavery, attempting to find convincing rebuttals to those who supported the evil institution ("As I would not be a slave, so I would not be a master. This expresses my idea of democracy."); prepares for his historic debates with Stephen Douglas; expresses his private feelings after a defeated bid for a Senate seat ("With me, the race of ambition has been a failure—a flat failure"); voices his concerns about the new Republican Party's long-term prospects; develops an argument for national unity amidst a secession crisis that would ultimately rend the nation in two; and, for a president many have viewed as not religious, develops a sophisticated theological reflection in the midst of the Civil War ("it is quite possible that God's purpose is something different from the purpose of either party"). Additionally, in a historic first, all 111 Lincoln notes are transcribed in the appendix, a gift to scholars and Lincoln buffs alike.

These are notes Lincoln never expected anyone to read, put into context by a writer who has spent his career studying Lincoln's life and words. The result is a rare glimpse into the mind and soul of one of our nation's most important figures.
About the Author
---
Ronald C. White is the New York Times bestselling author of American Ulysses and three books on Abraham Lincoln, most recently A. Lincoln. White earned his PhD at Princeton and has taught at UCLA, Colorado College, Whitworth University, and Princeton Theological Seminary. He has lectured at the White House, been interviewed on PBS NewsHour, and spoken about Lincoln in England, France, Germany, Italy, Mexico, and New Zealand. He is a reader at the Huntington Library and a senior fellow of the Trinity Forum in Washington, D.C. He lives with his wife, Cynthia, in Pasadena, California.
Praise For…
---
"An intimate character portrait and fascinating inquiry into the basis of Lincoln's energetic, curious mind . . . We see in Lincoln's fragments a poised and resolute intellectual. We also see a vulnerable individual humbled by the precariousness of the nation and of its vast, uncertain future. . . . As Mr. White shows so persuasively, Lincoln's quiet, personal moments laid the foundation for his enduring public legacy."—The Wall Street Journal

"These selected personal notes form chapters that describe Lincoln's life in private moments. As a whole, they create a unique, intimate, highly readable, and personable biography of Abraham Lincoln."—New York Journal of Books

"In this elegant and illuminating book, the great biographer Ronald C. White takes us on a fascinating tour inside the mind—and the heart—of Abraham Lincoln. . . . An important and timeless work."—Jon Meacham, Pulitzer Prize–winning author of His Truth Is Marching On

"This engaging volume captures the private thoughts of a man who often still feels like an enigma more than a century and a half after his death. Through insightful analysis, Ronald C. White enables us to better understand Lincoln and to better comprehend how the political and cultural landscape nurtured his thinking. Lincoln in Private is essential reading for both scholars and general audiences alike."—Edna Greene Medford, author of Lincoln and Emancipation 

"Out of long-forgotten memoranda, Ronald C. White has managed to construct a major Lincoln study that truly illuminates the life and philosophy of our greatest president. This is an exceptional feat of research, reconstruction, and reanalysis. It deserves a place on every bookshelf alongside Lincoln's collected works and, of course, White's own books."—Harold Holzer, author of Lincoln and the Power of the Press and winner of the Lincoln Prize 

"Abraham Lincoln rendered the nation's enduring tensions and purposes in unforgettable prose. Yet Lincoln did some of his best writing in small fragments, personal notes, and memos that illuminate his thinking anew. By assembling and expertly explicating these gems, Ronald C. White has made a singular and valuable contribution to the literature on our greatest president."—Sean Wilentz, author of The Rise of American Democracy 

"Abraham Lincoln's habit of jotting ideas and reflections on scraps of paper and placing them in a desk drawer to be drawn upon later for speeches, letters, and official documents has enabled Ronald C. White to offer important new insights into Lincoln's thought processes in this fascinating book."—James M. McPherson, Pulitzer Prize–winning author of Battle Cry for Freedom and Tried By War: Abraham Lincoln as Commander in Chief