Read This to Get Smarter: about Race, Class, Gender, Disability & More (Paperback)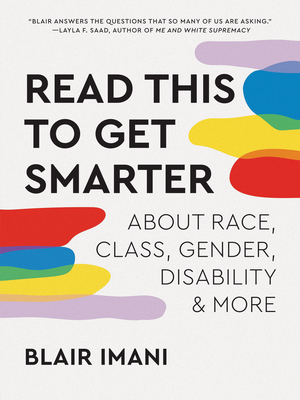 Description
---
An approachable guide to being an informed, compassionate, and socially conscious person today—from discussions of race, gender, and sexual orientation to disability, class, and beyond—from critically acclaimed historian, educator, and author Blair Imani.

"Blair answers the questions that so many of us are asking."—Layla F. Saad, author of Me and White Supremacy

We live in a time where it has never been more important to be knowledgeable about a host of social issues, and to be confident and appropriate in how to talk about them. What's the best way to ask someone what their pronouns are? How do you talk about racism with someone who doesn't seem to get it? What is intersectionality, and why do you need to understand it? While it can seem intimidating or overwhelming to learn and talk about such issues, it's never been easier thanks to educator and historian Blair Imani, creator of the viral sensation Smarter in Seconds videos.

Accessible to learners of all levels—from those just getting started on the journey to those already versed in social justice—Read This to Get Smarter covers a range of topics, including race, gender, class, disability, relationships, family, power dynamics, oppression, and beyond. This essential guide is a radical but warm and non-judgmental call to arms, structured in such a way that you can read it cover to cover or start with any topic you want to learn more about.

With Blair Imani as your teacher, you'll "get smarter" in no time, and be equipped to intelligently and empathetically process, discuss, and educate others on the crucial issues we must tackle to achieve a liberated, equitable world.
About the Author
---
Blair Imani is a critically-acclaimed historian, author, educator, and influencer. Her scholarship spans the subjects of gender studies, race and racism, sociology, intersectionality, and U.S. history. She is the author of Read This to Get Smarter about Race, Class, Gender, Disability, and More; Making Our Way Home: The Great Migration and the Black American Dream; and Modern HERstory: Stories of Women and Nonbinary People Rewriting History. The New York Times praised her unique ability to create "progressive lessons with vibrant visuals and a perky, quirky delivery." Her work centers women and girls, global Black communities, and the LGBTQ+ community. As an educator and influencer, semi-retired organizer, and public speaker, Blair Imani is dedicated to making the world a better place and amplifying the voices and work of those fighting the good fight.
Praise For…
---
"Blair Imani is the teacher I wish I'd had at school, and the educator I'm grateful to learn from now. Read This to Get Smarter is a book the world sorely needs. Written in her signature style that blends deep learning with ease and approachability, Blair answers the questions that so many of us are asking ourselves. This book helps plug the gaps of understanding that so many of us have and supports us in becoming better human beings and better ancestors."—Layla F. Saad, author of Me and White Supremacy

"As a young educator at Planned Parenthood, Blair Imani demonstrated her passion for teaching and building community. In Read This to Get Smarter, Blair provides a roadmap to better understanding the most important issues in our culture today, including race, class, gender, and disability. She approaches these important topics with humility and provides readers with the tools they need to get smarter."—Cecile Richards, former president, Planned Parenthood Federation of America

"Blair Imani writes about identity with a singular wit and accessibility that makes Read This to Get Smarter an essential guide for curious people of any age. The twenty-first century offers us countless opportunities to look foolish—in very avoidable ways, in front of lots of people—but thankfully, Blair is here to help."—Jamal Jordan, author of Queer Love in Color

"If you want a deeper understanding of the multi-layer universe of people with disabilities, this book is a great place to start."—Jillian Mercado, model, actor, and founder of Black Disabled Creatives

"Blair Imani's Read This to Get Smarter is a necessary guide for anyone committed to justice in their personal and political lives. Imani approaches readers with a deep kindness and offers them concrete tools for thinking anew about race, gender, class, and sexuality, and for imagining a different kind of world."—Jennifer C. Nash, author or Black Feminism Reimagined

"I did indeed read this to get smarter, and Blair Imani does not disappoint. As a queer Jew, to see such thoughtful passages reflecting my own identity left me even more inspired to continue to educate myself on the history and experiences of others."—Jake Cohen, New York Times bestselling author of Jew-ish: A Cookbook

"I love Blair's style of educating. Her fun and colorful personality (and fashion) really makes learning fun, but my favorite thing about Blair is how she calls on people affected by a certain issue or subject to speak on it and amplifies their voices. I wish more educators did that."—Nathalie Emmanuel, actor