Stompbox: 100 Pedals of the World's Greatest Guitarists (Hardcover)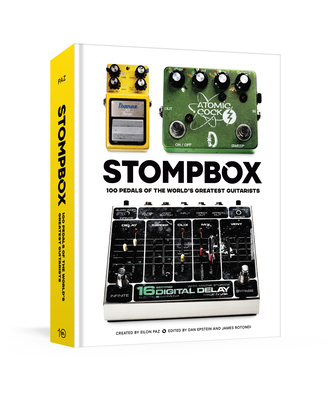 Description
---
A deluxe photographic celebration of the unsung hero of guitar music—the effects pedal—featuring interviews with 100 musicians including Peter Frampton, Joe Perry, Jack White, and Courtney Barnett.

Ever since the Sixties, fuzz boxes, wah-wahs, phase shifters, and a vast range of guitar effects pedals have shaped the sound of music as we know it.

Stompbox: 100 Pedals of the World's Greatest Guitarists is a photographic showcase of the actual effects pedals owned and used by Jimi Hendrix, Stevie Ray Vaughan, Frank Zappa, Alex Lifeson, Andy Summers, Eric Johnson, Adrian Belew, Joe Satriani, Steve Vai, Ed O'Brien, J Mascis, Lita Ford, Joe Perry, Thurston Moore, Lee Ranaldo, Vernon Reid, Kaki King, Nels Cline and 82 other iconic and celebrated guitarists.

These exquisitely textured fine-art photographs are matched with fresh, insightful commentary and colorfulroad stories from the artists themselves, who describe how these fascinating and often devilish devices shaped their sounds and songs.
About the Author
---
Eilon Paz is a Brooklyn-based photographer and art director. His work has appeared worldwide in publications such as the New York Times, Rolling Stone, the Observer, Maxim, Wax Poetics, Saveur, Monocle, Conde Nast Traveler, and Delta Airlines' Sky magazine, among others. His 2014 debut book, Dust & Grooves: Adventures in Record Collecting, has sold over 25,000 copies to date and is in its third edition. Paz was disqualified from the 2008 Air Guitar World Championships in Oslo for applying the then-unheard B-flat Hexatonic/Odyssey scale to a Britney Spears song. Since then, he's been focusing his efforts and talents on producing music-related art books.

Dan Epstein is an award-winning, battle-scarred veteran of the rock journalism wars, who has written for Rolling Stone, Revolver, Guitar World, SPIN, FLOOD, the Jewish Daily Forward, and dozens of other publications. As a guitarist, he has recorded with several psychedelically inclined bands, including The Jupiter Affect and Lava Sutra; he has also penned several books on baseball, including Big Hair and Plastic Grass: A Funky Ride Through Baseball and America in the Swinging '70s. He lives in Greensboro, North Carolina.

James "Roto" Rotondi has been the editor-in-chief of Guitar World's Bass Guitar and Future Music Magazine, a senior editor at Guitar World, Guitar Player, and Remix Magazine, and has written for Premier Guitar, Acoustic Guitar, Rolling Stone, SPIN, MOJO, The Wire, Sound & Vision, American Songwriter, and JazzTimes. A former keyboardist and singer for French electro band Air, as well as Mike Patton's Mr. Bungle, the Nashville-based Rotondi plays lead guitar for British rock titans Humble Pie, The Cringe, Hundred Hounds, Mysterious Union, and fronts his own Roto's Magic Act.