My Mother's House: A novel (Paperback)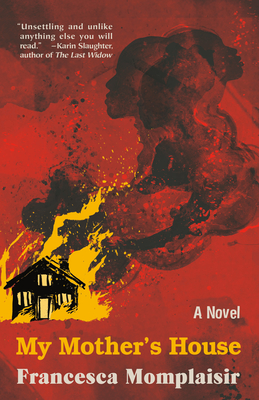 $17.00

Usually arrives at our store within 4-7 days
Description
---
One of the Best Books of the Year: Elle, Harper's Bazaar, Vulture • This uncompromising look at the immigrant experience, and the depravity of one man, is an electrifying page-turner rooted in a magical reality • "Impossible to stop reading" —Vulture

When Lucien flees Haiti with his wife, Marie-Ange, and their three children to New York City's South Ozone Park, he does so hoping for reinvention, wealth, and comfort. He buys a run-down house in a quickly changing community, and begins life anew. Lucien and Marie-Ange call their home La Kay—"my mother's house"—and it becomes a place where their fellow immigrants can find peace, a good meal, and necessary legal help. But as a severely emotionally damaged man emigrating from a country whose evils he knows to one whose evils he doesn't, Lucien soon falls into his worst habits and impulses, with La Kay as the backdrop for his lasciviousness.

What he can't begin to fathom is that the house is watching, passing judgment, and deciding to put an end to all the sins it has been made to hold. But only after it has set itself aflame will frightened whispers reveal Lucien's ultimate evil.
About the Author
---
Francesca Momplaisir is a Haitian-born multilingual literature scholar and writer of fiction and poetry in both English and her native Haitian Kreyol. She holds undergraduate and graduate degrees in English and Comparative Literature from Columbia University, the University of Oxford, and New York University. She earned a Doctorate in African and African diaspora literature as an NYU MacCracken fellow. She is a recipient of a Fulbright fellowship to travel to Ghana to research the cultural retention and memory of the transatlantic slave trade. She has also been listed as one of USA Today's 100 Black Novelists and Fiction Writers You Should Read. Francesca is the proud single mother of two sons and resides in the New York City metro area.
Praise For…
---
"This is the America of opportunity, with one wave of immigrants replacing another as they climb higher on the ladder of success, but Momplaisir skillfully reveals why this ladder is missing a few rungs. . . . A needed contribution to this difficult conversation."
—The New York Times Book Review
 
"The prose style is tough to describe — sometimes torrential and detailed, sometimes strategically simple. In any case, this one fits into the genre of 'stay-up-all-night' books both because it is impossible to stop reading and also because it makes you scared to turn off the light. And it's the author's debut, too. Hardcore." 
—Vulture

"Incredible. . . . Many authors would not be able to pull off a novel that encapsulates so many genres and styles, but Momplaisir's beautiful, poetic prose and impeccable narrative pacing melds [them] perfectly to create a satisfying, slow burning narrative and an unforgettable read that caters to a variety of interests. . . . My Mother's House tackles some of our most pressing societal issues, including gentrification, racial injustice, and the psychological harm of migration, with rarely encountered grace and an unflinching eye." 
—Tor.com 

 "Not only is this a startling thriller, My Mother's House is a gripping examination of immigration, the American Dream and the dangers of toxic masculinity." 
–Ms. Magazine
 
 "A must-read literary thriller." 
–Paste Magazine
 
"Momplaisir deftly renders the immigrant experience in all its complexity and variety. . . . [My Mother's House is] an unsentimental tale of resilience in the face of struggle and a particularly modern thriller." 
—Commonweal
 
"You need to read My Mother's House. I loved it. From the amazing opening chapter to the end, the book is original, exciting, and beautifully written. Francesca Momplaisir is incredible." 
–Edward Kelsey Moore, author of The Supremes Sing the Happy Heartache Blues
 
"A haunting story of the (Haitian American) immigrant experience amid toxic male dominance—My Mother's House is unsettling and unlike anything else you will read."
–Karin Slaughter, New York Times and International Bestselling Author

"Momplaisir is a bold and powerful new voice, and My Mother's House is poised to blow the roof off."
–Carolina De Robertis, author of Cantoras
 
"Francesca Momplaisir's storytelling is lush, dynamic and captivating, with a sharp eye for details and an honest uncompromising depiction of human visciousness as well as beauty. My Mother's House is an absolutely gripping read!" 
–Sahar Delijani, author of Children of the Jacaranda Tree 
 
"It's not often a contemporary novel is narrated by an inanimate object. Francesca Momplaisir takes this classic form and combines it with contemporary issues in My Mother's House, narrated by the titular dwelling . . . Momplaisir illuminates the darker side of immigrant life . . . In [My Mother's House], cracks of light are always there to penetrate the dark." 
—BookPage

"Momplaisir's provocative debut unearths the secrets and dark desires of a Haitian immigrant family man living in an anthropomorphic house in Queens, N.Y. . . . Momplaisir's arresting take on the abuse of male power will long haunt the reader." 
—Publishers Weekly

"Dense with poetic imagery, this debut novel is propelled forward by rich detail. . . . A tour de force; Momplaisir is a writer to watch." 
—Library Journal (starred review)
 
"A shockingly original exploration of class, race, and systemic violence. . . . This house, tainted by the human evil it contains, is reminiscent of the opening line of Toni Morrison's Beloved. And, like Morrison, Momplaisir uses the tropes of fantasy to try to assert truths that ordinary language and realistic imagery cannot communicate . . . Momplaisir's debut introduces her as an author to watch."
—Kirkus Reviews (starred review)