Kids Would You Rather Game (Paperback)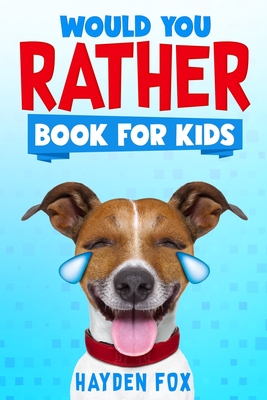 Description
---
Attention The Ultimate Sleepover, Road Trip, Party & Family Night-Hack Is Here
No more boring road trips. No more awkward sleepovers. No more video games or tablets.
Discover the interactive, fun, and hilarious Would You Rather book for kids that will help bring everyone closer together, break the ice, and get everyone laughing out loud
Quick Question
Would You Rather Keep Your Kids Entertained For Hours Or Have Them Complain Every 15 Minutes?
Well, the answer to that question might be simple, but we have 200 more challenging, fun, and thought-provoking "Would You Rather...?" questions that will offer your kids and their friends endless hours of fun
A Must-Have Activity Book For Every Family: Non-Stop Would You Rather Fun For The Whole Gang
Unlike other joke books for kids, funny books for kids or road trip games for kids, this mega-value Would You Rather game book for kids ages 6-8, 8-10 and 10-12 includes:
✅ 200+ Mind-Bending, Funny & Challenging Questions For The Whole Family
✅ Silly & Outrageous Scenarios For Each Team And Player
✅ Different Variations Of The Would You Rather Game So Kids Never Get Bored
What Makes This Fun Travel Game Book Stand Out?
When it comes to Would You Rather books for kids, every parent wants the content to be:
☑️ Clean & Age-Appropriate
☑️ Comical & Entertaining
☑️ Easy-To-Play & Amusing
And this parent-approved and kid-recommended kids activity books checks out all the boxes
That's Not All
Get a SPECIAL BONUS at the end of the book for even more laughs (No spoilers here )
And The Best Part?
If you are looking for funny kids books, activity books for kids ages 9-12 or gift books for kids, look no further
This hysterical car ride activity book for kids will make the best stocking stuffer, Christmas present or birthday gift for any child or parent
What Are You Waiting For?
Make the next sleepover, playdate, family vacation, visit to the grandparents, family reunion, birthday party, road trip, plane flight or bus ride more fun than ever
Click "Buy Now" & Get The "Coolest Parent Of The Year" Award