Minimalism: Control Your Budget for Joy, Health, Creativity, and Happiness (Have a Life of Simplicity and Fulfillment) (Paperback)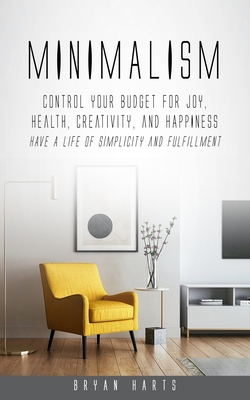 $19.95

Usually arrives at our store within 4-7 days
Description
---
Start breaking away from the chains of consumerism and embrace minimalism where less is more with the teachings in this book We all are striving to be happy. And we do so many things in our quest towards becoming happier versions of ourselves. Unfortunately, many of us look for happiness in all the wrong places. For instance, many are the times we look for happiness in material possessions, which, unfortunately only makes us keep accumulating unnecessary physical, mental, financial and social clutter. In the end, we end up feeling unhappy and empty then wanting to get quick fixes by buying new stuff, achieving more and doing all manner of things, which result to an endless cycle of unhappiness. Are you tired of chasing material possessions, bigger social circles, more customers and many other things, which you've only discovered leave you feeling empty soon after you obtain them?
Here's a preview of what you will learn:
How To Stay Motivated in your living with less readiness
Plenty of Examples To Create more Minimalism anywhere
Techniques To know what do in specific Minimalism situations
General tips - Minimalism manual
Essential survival Stockpile essentials
Survival in the urban environment
minimalism spartan survival skills
33 Items You Will Need for The Spartan 300 minimalist lifestyle
Minimalism Tips
"hip pain: the ultimate guide" - a preview
People tend to fill their homes the way they pack for travel, having more than necessary "just in case." Society has come to put too much emphasis on acquiring and collecting more and more possessions, often believing that things result in happiness or symbolize success. This book is geared to help you understand how to live a minimalist lifestyle by surviving and thriving on what is needed and NOT what is wanted. Grab your copy of this book and become an expert minimalist in just a few hours.
The confidence of living with minimum means that you get from minimalism is contagious. Many people around you get inspired from your way of living, so much so, that they might even ask you for guidance to become a minimalist. However, it is not easy to become a minimalist. You need bountiful determination and perseverance to deal with the tremendous changes in your life. But, with the support of your well-wishers, this can be definitely achieved.
Get this book today