National Belongings: Hybridity in Italian Colonial and Postcolonial Cultures (Italian Modernities #7) (Paperback)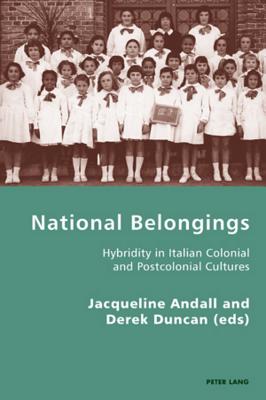 This item is not available.
Other Books in Series
This is book number 7 in the Italian Modernities series.
Description
---
Scholars of Italian colonialism have been reluctant to acknowledge the influence that local populations and their culture had on Italians and on the ways in which they settled and administered the territories they occupied. This tendency has reinforced the notion that the European domination of Africa was total both culturally and politically. Yet there is evidence to suggest that in every sphere of colonial life, the relationship between colonizers and colonized was more dynamic and complex than has been assumed.
The essays in this interdisciplinary volume address the gap in Italian colonial/post-colonial studies by examining how different notions of 'hybridity' help illuminate the specific nature and circumstances of the Italian colonial and postcolonial condition. Some of the contributors see hybridity as a positive challenge to fixed categorizations. Others contend that its hasty deployment promotes a lack of attention to local difference. Foregrounding specific instances of cultural practice across a range of media from literature to oral testimony and the internet, this volume represents a new stage in the study of Italy's colonial past and its postcolonial afterlife.
About the Author
---
The Editors: Jacqueline Andall is Senior Lecturer in Italian and European Studies at the University of Bath. She has published primarily on contemporary Italian politics and society, with particular reference to immigration, the second generation and postcolonialism. Derek Duncan is Professor of Italian Cultural Studies at the University of Bristol. He has published extensively on modern Italian literature and film, with particular reference to issues of gender and sexuality, and colonial and postcolonial culture.