Giovanni Segantini. La Vita —La Natura—LaMorte: Landmarks of Swiss Art (Hardcover)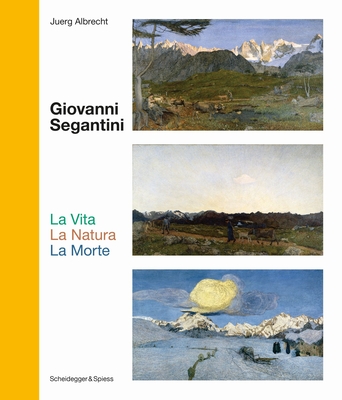 Description
---
An insightful new study on the moving genesis of Giovanni Segantini's landmark triptych.

Giovanni Segantini's (1858–99) three paintings La Vita—La Natura—La Morte (Becoming—Being—Passing) of 1898–99 at first glance reveal nothing about their equally complex and interesting background. Segantini originally planned them for the 1900 Paris Exposition Universelle as a multimedia walk-through "Engadine Panorama" 722 feet long and sixty-feet feet high. He was forced to reduce the undertaking to three purely pictorial main paintings, which eventually remained unfinished due to the artist's premature death.
 
In this richly illustrated book, Swiss art historian and Segantini-expert Juerg Albrecht traces the eventful genesis of this landmark work, drawing on previously untapped sources, and places it in the context of Alpine painting and the mass medium of the panorama. He offers a fresh perspective on one of the last major Symbolist works of the fin de siècle and sheds light also on Segantini's highly personal pantheism.


 
About the Author
---
Juerg Albrecht is a scholar of art history. He served as head of art history research at the Swiss Institute for Art Research SIK-ISEA from 1991 to 2015.

Angelika Affentranger-Kirchrath lives and works in Zurich as a freelance publicist, critic, and curator.