Leggere La «Vita Nuova»: Zur Handschriftlichen Überlieferung Und Literarischen Rezeption Der «Vita Nuova» Von Dante Alighieri Im Trecento (Hardcover)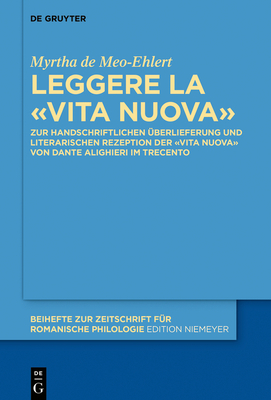 This item is not available.
Description
---
The book series Beihefte zur Zeitschrift f r romanische Philologie, founded by Gustav Gr ber in 1905, is among the most renowned publications in Romance Studies. It covers the entire field of Romance linguistics, including the national languages as well as the lesser studied Romance languages.
The editors welcome submissions of high-quality monographs and collected volumes on all areas of linguistic research, on medieval literature and on textual criticism. The publication languages of the series are French, Spanish, Portuguese, Italian and Romanian as well as German and English. Each collected volume should be as uniform as possible in its contents and in the choice of languages.